Graham Reid | | <1 min read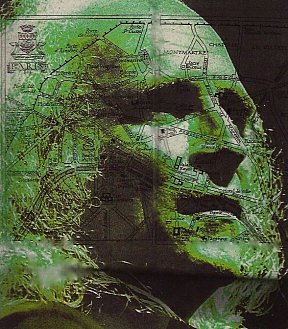 When I wrote a column Five French Albums I'm Surprised I Own I could just have easily made it 10, 20 or 30 albums.
Or a few dozen singles, 10'' or EPs.
As I mentioned, the School of Music library at the University of Auckland was downsizing and putting out boxes, literally dozens of albums at a time, of records it no longer needed.
Free to a good home.
My home as it turned out for scores of records and even more jazz CDs.
I think all the French albums, singles etc (some of poets reading their own work or in interviews) had been gifted by the consulate or some-such and -- to me at least -- they just seemed to valuable and rare to be taken to a tip.
Although, if you saw my office you might conclude that in fact that's exactly where they ended up.
Among the albums were a few by the great Leo Ferre whose image I adapted for the artwork at the head of the article.
Not a collage this time but a multiple photo-copy exercise wherein an old street map of Paris was overlaid.
It took ages to get it just right with a boulevard running directly down the bridge of his nose, the old bohemian area of Montmartre on his forehead/brain and a tangle of streets in his woolly hair.
I hope I did that genius some kind of justice from a distance.
.
For other Art by Elsewhere go here.