Graham Reid | | <1 min read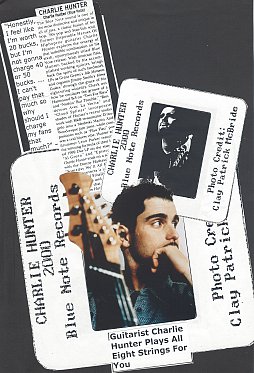 Although I interviewed Charlie Hunter before a concert here I think this image of the jazz guitarist actually accompanied an article in Real Groove magazine.
The year when that might have happened is lost to me.
But Charlie was a big deal with a new generation because in addition to great jazz chops he covered contemporary material, among them Nirvana's Come As You Are . . . although he said he wasn't particularly a fan of the band's delivery but admired Kurt Cobain's songwriting.
So this piece was a collage of quotes and ideas and images to give a visual picture of the man in a shape which vaguely suggested a guitar.
.
For other Art by Elsewhere go here.