Graham Reid | | <1 min read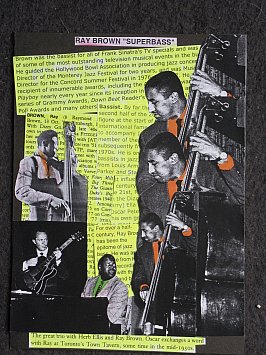 When the jazz bassist Ray Brown died in 2002 he was such a great talent his passing deserved to be noted, so Elsewhere published this survey of life, humour and greatness.
Brown was probably best known for his long association with pianist Oscar Peterson but he'd also played with Sinatra, Lester Young, Louis Armstrong, Anita O'Day, Quincy . . .
Our tribute acknowledged that in the article but of course the first thing people read is the picture.
So for this collage I wanted to chop up some text entries from magazines, jazz dictionaries and such so some of those names were prominent while Brown could be quickly identified by his instrument. And with Oscar looking up at him.
For some reason when I ran it with the article it appeared in black'n'white when it was much more vibrant than that.
So here it is as it was meant to be seen.
A bit more eye-catching I hope.
.
For other Art by Elsewhere go here.