Graham Reid | | 4 min read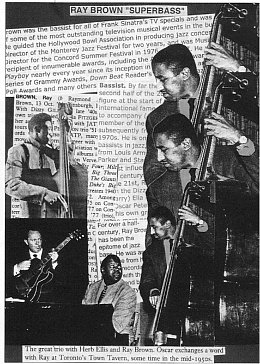 Ray Brown great practical joker. Once, in Japan, Brown --- bassist in pianist Oscar Peterson's famous drummerless group, the most highly paid trio in the jazz world in the 1950s -- went to a pachinko hall, one of those gambling parlours where you are blinded by blazing neon and deafened by the incessant roll of small steel balls. He won and, instead of cashing in his ballbearings, filled his pockets with them.

Before the concert he slipped a few of the marble-sized silver balls onto the strings of Peterson's piano. When Peterson, then the most famous jazz pianist in the world alongside Dave Brubeck, started to play the sensitive ballad But Beautiful, "every note sounded like a whorehouse piano"

according to guitarist Herb Ellis.

That was Ray Brown the Joker for you. But he also played with so many great musicians that he seems almost promiscuous: Sinatra, Armstrong, Lester Young, Sonny Stitt, Anita O'Day, Quincy Jones (whom he managed) . . .

Brown was a founding member of Dizzy Gillespie's groundbreaking bebop band and later became musical director and husband to Ella Fitzgerald. He is on over 2000 recordings and someone on whom praise has descended with almost embarrassing frequency.

In Gene Lees' 1988 The Will to Swing biography of Peterson, an unnamed bassist says Brown was so far ahead of everybody musically there was no comparison: "He's a tall man in a crowd of medium to small men. That's how he stands out."

That's the stature Brown enjoyed, right up until his death in July 2002. His passing didn't go unnoticed, but let's be honest. Jazz bassist dies, the world moves on in the blink of an eye.

Brown was born in Pittsburg in October 1925. He took piano lessons a kid and - unlike classically trained Peterson with whom his name is most often linked - his dad encouraged him to listen to and play like jazz musicians such as Fats Waller and Art Tatum.

Maybe because of those high expectations, the young Brown gave up the ivories and took up trombone. Dad couldn't afford to buy his boy a trombone but a bass was available at school so . . .

He gigged on weekends, got his own instrument when the school repossessed theirs, and toured with a local band as far off as Miami.

Then he lit out for New York and – this is a great story -- the night he arrived went down to 52nd Street and saw Errol Garner, Art Tatum, Billie Holiday and Coleman Hawkins. He met pianist Hank Jones who introduced him to Gillespie.

Brown picks up the story.

"Dizzy said, 'Do you want a gig?' I almost had a heart attack. Dizzy said, 'Be at my house for rehearsal at seven o'clock tomorrow'.

"I went there the next night and got the fright of my life. The band consisted of Dizzy, Bud Powell, Max Roach, Charlie Parker and me. Two weeks later we picked up Milt Jackson who was my roommate for two years."


Quite an introduction to the jazz life, during which the musically inquisitive Brown learned bebop inside out and practiced relentlessly, a habit he took with him when he joined pianist Peterson in 1950 for an affiliation which lasted 15 years.

When the Peterson Trio travelled, Brown would hang out with other bassists from the jazz and classical world, or he and Ellis would rehearse endlessly, anticipating musical possibilities so they could extend them on the bandstand.

When drummer Ed Thigpen came in as Ellis' replacement, Brown did the same with him for many years. Then he quit. 'Mr Brown Goes to Hollywood' was the headline in the New York Post in November 1955.

Critics hailed his years with Peterson ("the most effective music collaboration of the 50s," said Leonard Feather) but for Brown it was time to kick back.

"It wasn't just the 15 years with Oscar, it was 20 years on the road counting Dizzy Gillespie and other bands I was with, and all those tours with Jazz at the Philharmonic.

"So it's time to reconsider."

But within 48 hours of arriving in California Brown was working again. And he never stopped. He formed his own trio, opened a club, played with singer Ernestine Anderson and, most profitably, teamed up with Jamaican-born, Oscar-influenced pianist, Monty Alexander, who has most recently come to wider attention for his reggae-jazz albums with guitarist Ernest Ranglin.

It was with Alexander and guitarist Russell Malone that Brown made his final recordings.

The album appeared simply under their own names, the album is an almost unadventurous affair – but on close inspection unwittingly favours much of Brown's history. There are tunes by Fats Waller, Dexter Gordon and John Lewis of the Modern Jazz Quartet alongside his own tunes, one of which is dedicated to Lionel Hampton. There's also Fly Me to the Moon.

The album came with a limited edition bonus CD drawn from the Telarc label's files. Okay, it's a narrow sliver of a long career but here is Brown alongside those he influenced and inspired (Christian McBride, a bassist of the Marsalis Generation) and recorded live. He shines.

Oscar Peterson, the musician who knew Brown best, mused in 1987 of their 37 year association that Brown's gift was difficult to describe: "His talent had a kind of depth... it's not just intuitive. His talent is almost ethereal."

In those years Brown and Ellis were with Peterson and practicing every day, rehearsing possibilities and alternatives, Brown had a saying: "See if you can hear this."

Maybe that's what Peterson was saying too. And it's never too late to see if we can.