Graham Reid | | <1 min read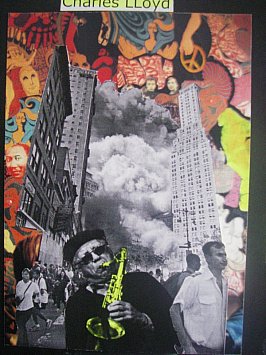 Given that the Charles Lloyd album this was created for is a quiet affair, some explanation is needed of this chaotic looking collage.
The album was Lift Every Voice and it has been a longtime Essential Elsewhere Album.
But the art refers to the time of its creation, not the resulting music.
The great saxophonist -- who had been acclaimed by the hippie/Age of Aquarius generation for his Forest Flower album in the late Sixties, and derided by jazz critics for its popularity -- had arrived in New York to record and said in an interview that what the world needed was more tenderness.
He was right.
But the next morning he woke to a changed world: it was September 11 2001 and further down the city the World Trade Centre towers were tumbling amidst death, chaos and confusion.
How to respond to that?
With fury and rage . . . or with tenderness?
At that time -- as President Bush was mobilising in fury and rage -- Charles Lloyd went quieter. Lift Every Voice was about that tenderness he had spoken of.
The article about Lloyd and that wonderful album this was designed to illustrate is here.
There are a number of Charles Lloyd albums reviewed at Elsewhere, and an interview. See here.
.
For other Art by Elsewhere go here.