Graham Reid | | <1 min read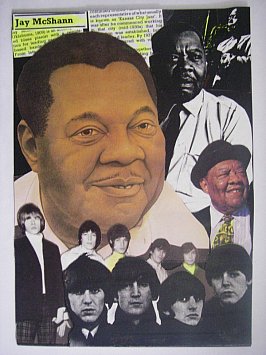 The thing you learn about jazz is that if you write about it most people aren't interested.
Aside from jazz aficionados who will be quick to point out how wrong you are, which album is better, why you should have written about someone else instead . . .
So when I was writing about jazz (and very Elsewhere music) for certain magazines directed at a more "rock" audience I'd try to supply collages which might pull people in.
Like this one about the jazz-blues pianist Jay McShann.
I figured if I put the Beatles and Stones in there then maybe, just maybe . . .
There was a valid reason for their inclusion however. On the album I was mentioning there were songs which both those bands had covered in their formative years.
Oh, and the reason Charlie Parker was top right was because McShann had him in his Kansas City band for a while before Parker lit out for greatness.
Jay McShann lived quite some life in those rogue days in KC and when I interviewed in Auckland he told great stories.
However . . .
Well, the punchline is in this article which the art accompanied.
.
For other Art by Elsewhere go here.