Graham Reid | | <1 min read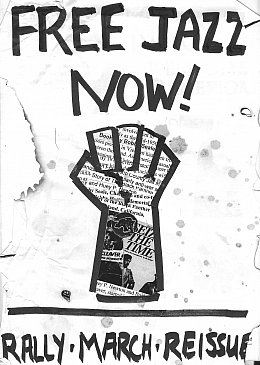 As with anyone who has done their share of marching, there's always the memory of the clenched fist and the demand that someone be freed.
So when it came to writing something about militant, black American free jazz from the late Sixties/early Seventies this image just sprang back.
I wanted the thing to look like it was a poster battered by events at the time (the burnt edge) and resurrected from some bottom drawer, hence the crumpled look.
For the life of me I can't remember what those albums were but I'm pretty sure this came from the period when I was writing a monthly column for Real Groove magazine.
Maybe it was this one where I have included it, although that seems to have its own distinct collage at the top.
.
For other Art by Elsewhere go here.