Graham Reid | | 1 min read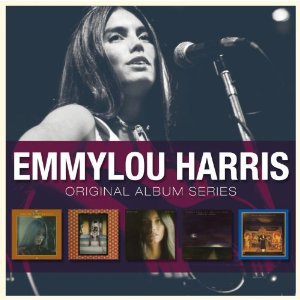 With a new Emmylou Harris album about to be released -- does an Emmylou album "drop"? -- it is timely to look briefly at this five CD set of her early solo albums.
It skips past her work with Gram Parsons of course, and also her debut solo album Gliding Bird of '70 on the small Jubilee label but picks up her five Reprise albums from '75: Pieces of the Sky, Elite Hotel, Luxury Liner, Quarter Moon in a Ten Cent Town and Blue Kentucky Girl, all of which she released in a little over four years.
Harris was quite the star and this was where she made her name after Parsons' death in '73. The best country players were lining up on her albums: a partial list of big names on these include mandolin player Byron Berline, pianists Glen D Hardin and Bill Payne (Little Feat), Ben Keith on pedal steel (a longtime Neil Young offsider), fiddle player Ricky Skaggs, guitarist Bernie Leadon (the Eagles etc), James Burton (the Elvis' Presley and Costello, harmonica player Mickey Raphael (Willie Nelson et al). . .
And these people were with her on album after album, with guests like Dolly Parton, Rodney Crowell, Nicolette Larson . . .
If you judge someone by the company they keep, right?
Of course she sings like an angel and was picking strong material. Her signature songs Bolder to Birmingham, Queen of the Silver Dollar, Sweet Dreams and others are here alongside astute Beatles covers (For No One, Here There and Everywhere), songs by Parsons (Hickory Wind, Sin City), Parton (Coat of Many Colours, To Daddy), Townes van Zandt (Poncho and Lefty), a number by Crowell and numerous country classics from the pens of Hank Williams, Billy Sherrill, and the Louvin Brothers. And Utah Phillips' Green Rolling Hills.

These are the essential early Harris albums and in the Eighties her path was somewhat more haphazard, but these should be in any sensible collection of country/Americana . . . and at just $20 from JB Hi-Fi stores here that puts them in reach of everyone.
And another Bargain Buy.