Graham Reid | | 1 min read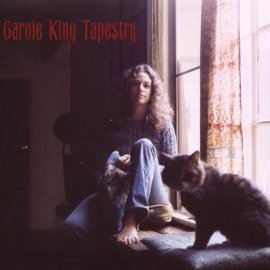 The literary term "roman a clef" refers to a novel which is a thinly disguised story based on real events, and maybe we could also use it in the context of film and telelvision.
Certainly the '96 movie Grace of My Heart by Allison Anders -- which starred Illeana Douglas as a jobbing songwriter turned solo singer -- followed fairly closely the career of Carole King who started out as songwriter in New York in the late Fifties/early Sixties working with Gerry Goffin (later her husband) but who reinvented herself in Los Angeles at the time of the whole sensitive post-hippie singer-songwriter movement of the Seventies.
The film includes nods to the Crystals, Brian Wilson and Carly Simon along the way.
King's real life intersected -- at least in music -- with some of these people and her Tapestry album of '71 has sold a whopping 25 million-plus copies. It was the album which established her as a solo performer, but was also emblematic of its era where Joni Mitchell, Crosby Stills and Nash, James Taylor (and many of his siblings), Neil Young (in folkie mode) and J.D. Souther were in the vanguard of a movement away from tripped-out guitars and 30 minute songs to introspective and often personally revealing material.
Even today Tapestry stands up because of the strength and consistency of King's writing -- and her judicious choice of songs where she reached back a decade for Will You Still Love Me Tomorrow (written with Goffin) and You Make Me Feel Like a Natural Woman (which she, Gerry and Jerry Wexler) had delivered to Aretha Franklin.
And in her own way -- on I Feel the Earth Move and Smackwater Jack -- King also rocked out in her own gentle way.

Tapestry was a monster -- a subtle and quiet monster -- and this edition packaged up with an extra disc of solo versions recorded live in '73 should be in any sensible record collection.
And at just $10 from JB Hi-Fi stores here that is rather easy.
And that is why Tapestry Legacy Edition is an Elsewhere-recommended