Graham Reid | | 1 min read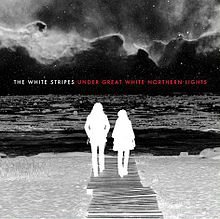 When this live album and tour film was released a couple of years back it trailed some approving critical reviews but seemed to be greeted with less enthusiasm by White Stripe fans, some of whom I guesed had arrived late to the band.
In retropsect this is more interesting than it seemed at the time because within a year Jack and Meg were increasingly going their own ways and not longer after that the White Stripes were no more.
So the doco of their lowkey tour of Canada, small towns and sometimes physically uncomfortable, stands as a an interesting historical event given the arc of their career, and that this is the only live album so far released. And to see them play in bowling alleys, rec centres, up close to people and in an Inuit comunity is illustrative of what a rare band they were.
In a longer review of this set when it came out (here) I noted that some had suggested the packaging of the limited edition collection -- LP, 200 page booklet etc -- had an air of finality about it.
I said it didn't feel like a fullstop but more like another milestone on their interesting journey.
I was wrong in that, but I think right in saying that the film is excellent and the 16-song CD is overlong and unfortunately errs too much to their Led Zepp inclination and doesn't include enough of the more intimate and folksy moments seen in the film.

No matter, at just $10 at JB Hi-Fi stores here, this is easily this week's Elsewhere-recommended Bargain Buy.