Graham Reid | | 1 min read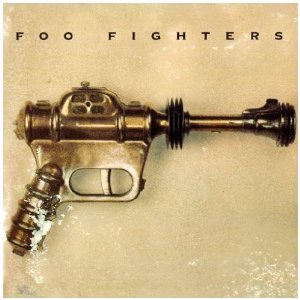 With the enormusly popular Foo Fighters about to descend on New Zealand again -- riding the back of their most successful if familiar-sounding album in years, Wasting Light -- it seems timely to go back to where their story began in the mid Nineties . . . with this debut which was a Dave Grohl solo project in effect.
In my review of Wasting Light I suggested this was the album -- and specificially the fun-times video for the single Big Me -- which marked the end of the grunge era. Kurt/Nirvana angst was out, big toothy-grin Grohl/Foo Fighters cathartic pop-cum-metal-edged rock was in.
That it began with This Is A Call was, in retrospect, somehow as significant as the Clean's Tally Ho marking the start of the Flying Nun era. And with barely a pause the album goes straight into I'll Stick Around (which some wrongly read as a farewell note to Cobain) which was also telling.
Grohl/Foos have been much derided by critics who have written him/them off as dilettantes. (After more than 15 years? C'mon, get over it guys.) But there was no denying this debut, on which Grohl played just about every instrument, was a breath of fresh air after the sometimes stultifying and claustrophobic noise of some latter-day "grunge" bands marketing depression to teenagers, which isn't hard to do.
And Big Me is still a pretty catchy pop song.
This sounded nothing like "a drummer's album" and Grohl could crank out some memorable melodies, many of which are still in the Foo's set today.
From a modest cassette (as this was originally) to stadiums was a rapid rise, but Grohl mostly handled it without making the mistakes he'd seen others make.
And this album stands up well.

And at just $12.99 at JB Hi-Fi stores here it really deserves to be in any collection . . . because at that price it is also a Bargain Buy.
Dave Grohl is interviewed at the time of this album's release here.