Graham Reid | | 1 min read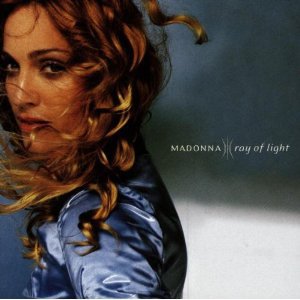 By the time Madonna delivered Ray of Light in 1998, she had so sorely tested the patience of any serious liseners that -- despite critical acclaim and awards -- it went past far too many.
Those loyal to the faith of course heard it as the mature, sometimes dark and thoughtful album that it was (for some it was perhaps too mature and there wasn't enough dance). But after all that had preceded it, you could forgive so many for not bothering to pay attention to a woman who seemed wiling to do anything for media attention.
The Nineties had begun in a relationship with Vanilla Ice (well, he was sort of hot at the time), the self-funded film Truth or Dare which masqueraded as a documentary (it was self-serving and manipulative), some lousy films, the soft-core book Sex (which tied in with her album Erotica) . . .
Things improved with her appearance in Evita and of course her albums continued to spring hit singles.
But there was something increasingly desperate about her desire to be constantly provocative and sexually daring.
Madonna fatigue set in, for her too. Controversy was easy to manufacture, if that was all you wanted to do.
Having discovered the philosophy of Kabbalah, she seemed to start taking herself more seriously and the fruit of that was Ray of Light, the most musically interesting and challenging of her career and a huge step past vacuous pop.
The songs were edgy and crafted, tapped into trip-hop and electronica in an intelligent but not exploitive and bandwagon-riding way, and lyrically she had something to say about being a mature artist and woman in way that wasn't salacious.
Ray of Light deservedly picked up a Grammy and is widely considered the most consistent album of her long career, and the album that not only announced a belated maturity but also weaved her out of the corner she had painted herself into.

It's an album which should be in any serious collection -- and at just $10 from JB Hi-Fi stores here, it is well withing reach.
And that is why it is also this week's Bargain Buy.