Graham Reid | | 2 min read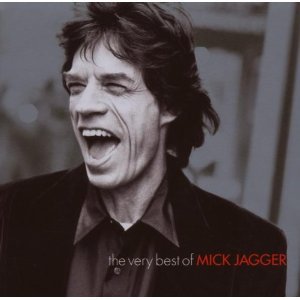 Mick Jagger is not the kind of multimillionaire rock star you would ever feel some sympathy for: more money than the Anglican Church, property interests across the globe, a knighthood, fashion models with brains, kids who seem to keep out of the gossip pages, his health, those slim hips . . .
And yet.
Like his peer Sir Paul McCartney, Sir Michael is never going to be quite as cool as his writing partner. The death of John Lennon inspired an elevation to sainthood among many, and Keith Richards' remarkable ability to survive -- while looking like a pirate whose face has been slept in -- means he too will forever be more hip.
Where did it all go wrong, Mick? That awful Let's Work song -- get off your arse and get a job -- during the years of high unemployment was a nadir and just seemed mean spirited to many.
Even if Richards' solo albums have been ramshackle affairs they have always had a smack of honesty and devil-may-care about them. Jagger's seemed . . . calculated?
But surely over four albums and few offshoot projects there is ample material for a best of, or in this overstating case, "The Very Best of"?
Sort of, maybe.
Jagger's solo output started in very promising way with Memo From Turner in the Performance film (see clip here) where he was at his slightly demonic and disturbing best, but once he seriously started to embrace New York disco/dance -- without the tempering of fellow Stones (as for the terrific Miss You elevated by Bill Wyman's bass and Charlie Watts' drumming) -- things took a turn for the worse.
And his rock material was always professional to the point of heartless.
This single disc from 2007 -- 17 songs, three previously unreleased including the John Lennon-produced Too Many Cooks -- reminds you that he did have some excellent material, especially on his Wandering Spirit album of '93 from which four tracks here are lifted, including his lovely country ballad Evening Gown.
But the opener God Gave Me Everything from Goddess in the Doorway (2001) is just dull stadium rock, and although Just Another Night is a decent dance between rock and disco-rock (from the rather awful She's the Boss in '85) we could all have lived without his bombastic duet with David Bowie on Dancing in the Street.
Interestingly, the previously unreleased Charmed Life (from '92, Jagger playing almost everything) updated the disco-funk to decent effect, especially in this Ashley Beedle remix.
Jagger always had a winning way with ballads and Old Habits Die Hard here (with Dave Stewart, from the '04 movie Alfie) might have drawn favourable attention if the backing had been dialed down a bit.
The funk of Too Many Cooks has an interesting backstory. When Lennon was holed up in LA with his lover May Pang during his Lost Weekend of 18 months and skulling brandy alexanders, he and Jagger plus others at a loose end (Nilsson and Jessie Ed Davis among them, both "the late") would head down to the Record Plant on a Sunday when nobody else wanted the studio. They'd knock about . . . and this old soul warhorse got a one-off run through.
Rescued from May Pang's vaults, this is a genuinely spirited, horn-driven affair. You wish there were more from this rather less calculated source.
So add that to the Wandering Spirit songs, Memo From Turner and Don't Look Back with Peter Tosh and you've got the "very best of Mick Jagger". Here however you also get some considerably lesser moments -- and Let's Work for all of you who think the world owes you a living, you lazy bastards.
Get a job, be proud, stand tall, says one of your least favourite millionaire rock stars.

Still, at $15 at JB Hi-Fi stores (here), this is halfway decent countback on a solo career made of great moments -- and then the albums tracks which surrounded them.
An inclusion in our ever-growing Bargain Buy list, even so.