Graham Reid | | 1 min read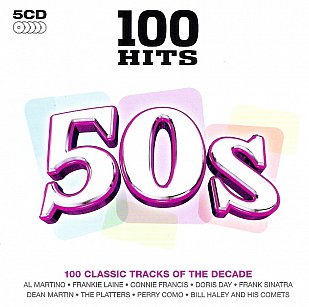 If you are looking at what prompted Frank Sinatra to denounce rock'n'roll of the mid Fifites as "played and written by cretinous goons", this five CD collection gives you the answer.
It's non-chronological but the 100 songs here are arranged so that the first three discs favour the popular MOR which was so prevalent before Elvis. So you get Alma Cogan (one of John Lennon's infatuations), the velvet tones of Nat King Cole, Perry Como, the Andrews Sisters, Patti Page, the great Connie Francis, Debbie Reynold's sublime Tammy and Doris Day's equally lovely Secret Love, Johnnie Ray (Yes, Cry), Dean Martin, Tony Bennett . . .
There are a few oddities (Kay Starr's Rock and Roll Waltz), Bennett doing Hank William's Cold Cold Heart, the Coasters' Yakity Yak and the Kingston Trio's Tom Dooley. But mostly it is music for adults.
Then comes CD4 which opens with Bill Haley and His Comets with Rock Around the Clock, Frankie Lymon (Why Do Teenagers Fall in Love?), Cliff Richard's seminal Move It, Danny and the Juniors Down at the Hop, Buddy Holly and the Crickets (That'll Be the Day), Jerry Lee Lewis (Great Balls of Fire), Buddy Knox's Party Doll . . .
No Elvis unfortunately, but you can hear the sea-change . . . and there's the Teddy Bears with To Know Him is To Love Him, Phil Spector's first big hit.
The final disc reverts to type -- it opens with Dean Martin's Volare -- but it's still cool to hear period pieces like Rosemary Clooney's Mambo Italiano, Doris Day's Que Sera Sera, Tony Bennett with the lovely melody of Stranger in Paradise (borrowed from Borodin), Sam Cooke's sublime You Send Me . . .
Interesting too how a few of these songs would be covered in the following decade: here is Jimmy Young's '55 version of Unchained Melody (covered by the Righteous Brothers in Spector's hands), David Whitefield with Cara Mia (later covered by Jay and the Americans) and a few others.
It's easy to dismiss much of this as just MOR schlock (some of it is certainly that) but there are also wonderful orchestral arrangements, effortless singing and some of the most memorable melodies to ever grace a gramophone.

Then of course rock'n'roll arrived and . . .
This excellent and very inclusive overview of the popular music of the Fifties is a mere $30 at JB Hi-Fi stores here -- that's just 30 cents a song folks! -- and that makes this collection our Bargain Buy for this week.
And if you want a Bargain Buy rockn'roll collection for necessary balance we'll get to that soon. Meantime here's your own From the Vaults compilation for folks on a budget.