Graham Reid | | <1 min read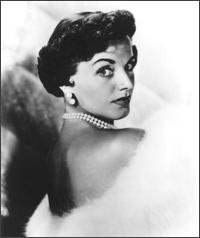 Cheap Trick scored a lot of favourable press for their Surrender (see clip below) in which the kid wakes up to find mum and dad rocking and rolling (rolling numbers) and having his Kiss records out.
If that song had a forefather it was perhaps this gimmicky and safer song by Kay Starr whose chart career had taken a bit of fall until she picked up on the rock'n'roll craze and took this rather bland and slightly silly song to the top of the charts in '55, just as rock'n'roll was starting to break.
Starr had previously sung with Glenn Miller's band and was considered a fine singer of popular jazz so, at 33, this song might have seemed a bit beneath her. But when times get tough . . . and anyway her new label RCA (soon to become home to Elvis Presley) made the strong suggestion she do it.
It briefly resurrected her career but by the Sixties she wasn't having hits and although she went back to jazz again and tried country music, her options were limited and she ended up (very successfully) in Las Vegas.
But it is for the antecedent to Cheap Trick's theme of adults trying on the kids' music (less happily in this case) that we acknowledge her at From the Vaults.
.
For more oddities, one-offs or songs with an interesting backstory check the massive back-catalogue at From the Vaults.