Graham Reid | | 1 min read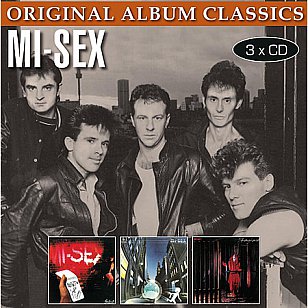 Given just how much synth-pop is around these days, maybe it's timely to note this cheap reissue of three albums by a New Zealand band that bridged post-punk New Wave and synth-pop, and garnered attention for their songs Graffiti Crimes, But You Don't Care and Computer Games (off their Graffiti Crimes debut), and People and Space Race (on their second album Space Race).
As some of those song titles indicate they tried to capture the zeitgeist of the early Eighties and, as with so many bands from that era, embraced the idea of emotional isolation and a dyspeptic world view (synths sort of invited that position and provided the remote, emotionally cold sound required).
However Mi-Sex were as much a post-punk pop band as an outright synth-pop band (Not Such a Bad Boy, I Wanna Be With You and Inside You off that debut) and at times -- in retrospect as we can perhaps hear better now -- they were at times closer to Citizen Band than say the proto-electronica of Satellite Spies and Car Crash Set.
Singer Steve Gilpin -- who died in '92 -- often overstated the case (the run-out lyrics of Graffiti Crimes) and would throw in some spoken word interpolations which rarely worked. So no one would argue that these are lost classics.
They are however often more than decent examples of pop on the cusp of a few styles.

So it is not only good to see them at the Bargain Buy price of $15 for three albums at JB Hi-Fi stores here, but to know they have been new life on iTunes and Spotify.
However it is rather nice to have them in the replica covers.