Graham Reid | | 2 min read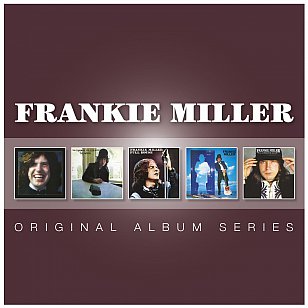 Curious how some artists can command a ferociously loyal audience but remain unknown to most. I know of Brits who hold Frankie Miller in the pantheon of great soul, rhythm and blues and rock singers, but also know of many more -- especially outside of the UK -- who've never heard a note he's sung.
Miller, originally from Glasgow, will sing no more after a huge brain haemorrhage in '94 (although some of his demos are being studio-shaped for a forthcoming album) but he has a significant catalogue worth exploring, and three of his best albums are in this five-CD set.
Miller was blessed with one of those rare voices and drew comparisons with his hero Otis Redding, and admiration from the likes of Rod Stewart. He'd started a solo career after being in various local and London bands (among them Jude which included guitarist Robin Trower).
Only those who read the fine print would know Miller was an accomplished songwriter whose work was covered by the likes of Joe Cocker, Etta James, Roy Orbison, Ray Charles, Bob Seger, Johnny Cash, the Everly Brothers . . . John Lennon apparently rated Miller's version of Jealous Guy from Full House as one of the best he'd heard.
So it was as a singer he should be considered.
After an unsuccessful debut album which pitched him more rock than soul, his '74 second album High Life was produced in Louisiana by the great Allen Toussaint who also gifted Miller with seven songs.
The follow-up album The Rock (named for Alcatraz) had contributions from the Edwin Hawkins Singers and the Memphis Horns and was recorded in San Francisco by Elliot Mazer who had worked with Janis Joplin and Neil Young. It was credited to the Frankie Miller Band.
Despite how good these albums were -- and they are very good, even now -- Miller got little traction in the US and was largely ignored by the music press in Britain in the mid Seventies.
His third album Full House (again with the Memphis Horns and the cream of UK studio players) was recorded in Britain with Chris Thomas (another big name producer happy to work with him) was just as good.
Those three albums are in this collection which also has Double Trouble (from '78, produced by Jack Douglas) and Falling in Love ('79, which included his hit Darlin').

Despite critical and peer acclaim, back home he was probably best known -- only known? -- as the guy who duetted with Phil Lynott on Still in Love With You and for Darlin' (which he didn't like at all).

Frankie Miller, now 64, was never a household name but in the Seventies he created a body of work which demands a reassessment and/or discovery.
And this collection, just $20 at JB HiFi stores here, is the one to do it. It's more than a Bargain Buy, it's an essential introduction to one of the ignored greats.