Graham Reid | | <1 min read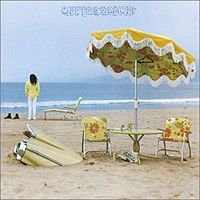 It always gives Elsewhere special pleasure when one of our Essential Elsewhere albums turns up going cheap, and possibly never more so than in the case of this Neil Young album from '74.
The album remained unavailable on CD until a decade ago but longtime Young fans circulated burns from the vinyl for many years.
It is a deep and dark album, fairly cynical you might say and contains some Young classics, notably See the Sky About to Rain, Revolution Blues, For the Turnstiles, Vamopire Blues and Ambulance Blues.
Various members of Crazy Horse, the Band, David Crosby and Graham Nash help out.

The album is essayed at a bit of length here, but really all you need to know is it is one of Young's best and that it is just $10 at JB HiFi stores here.

.