Graham Reid | | 1 min read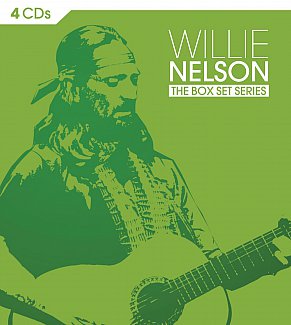 There's certainly no shortage of Willie Nelson compilations in the world, and the guy is still turning out albums . . . although his recent Band of Brothers is the first to contain mostly new songs in almost two decades.
You have to go right back to Spirit in '96 for an album of new songs.
So Willie seems to accept that for the most part he is a singer of old songs, but to be fair that back-catalogue is pretty rich pickings, which explains so many comps, collection and box sets.
It's easy to make the case for this four CD set however: It covers the Seventies so there are songs cherry picked from great albums like Red Headed Stranger (Blue Eyes Crying in the Rain), Stardust (Georgia on my Mind, that sad version of Blue Skies, All of Me), Willie Nelson Sings Kristofferson (Help Me Make It Through the Night) and Always on My Mind (the title track, Let It Be Me and Last Thing I Needed).
And they are just on the first disc.
Included on the other three are judiciously picked covers (City of New Orleans, Mammas Don't Let Your Babies Grow Up To Be Cowboys with Waylon Jennings, Townes Van Zandt's Pancho and Lefty and Seven Spanish Angels) and a swag of originals (It Should Be Easier Now, Me and Paul, On the Road Again, Forgiving You Was Easy, Hello Walls . . .)
There are some duets too: Everything's Beautiful with Dolly Parton; How Do You Feel with Kristofferson; Highwayman with Waylon, Kris and Johnny Cash; I Gotta Get Drunk with George Jones . . .
So yes, this 45 song set covers a lot of comfortably familiar Willie Nelson.
But there is perhaps another reason for commending this over a few other collections.

It is just $13 at JB HiFi stores here.
Anyway you cut it -- and if you cut it moneywise it's just 29 cents a song -- that has got to be this week's Bargain Buy.
Easy listening just got easier, and cheaper.
There is a slew of Willie Nelson reviews (and an archival interview) at Elsewhere starting here.