Graham Reid | | 1 min read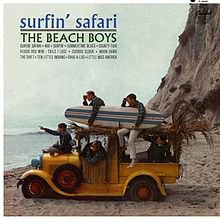 While sensible folk agree that Brian Wilson was a song craftsman and produced work of genius in the mid Sixties -- the period which is one of the focal points of the current film Love and Mercy -- everyone has to begin somewhere, although it's fashionable to dismiss their surf albums at the start of their career.
Critics don't surf, huh?
And the clothes didn't ever look cool, and haven't dated well.
But on these two albums from '62 and '63 respectively you can hear why, soon enough, Wilson would be able to work so well with the Wrecking Crew studio musicians who would realise his greatest work like Pet Sounds and so on.
The Wilson originals -- some co-written with BBoy Mike Love and others with Gary Usher -- show just how adeptly he incorporated Fifties doo-wop and Chuck Berry guitar-driven rock'n'roll into the same musical space. It was only right that Chuck should get co-credit with With Wilson for Surfin' USA because it is a rewrite of Sweet Little Sixteen.
They would also cover Eddie Cochran's Summertime Blues, Dick Dale's Miserlou and Let's Go Trippin', and Bill Doggett's Honky Tonk. None of them match the originals, but the band was -- even at that early stage -- stretching themselves.
Wilson's songs like Cuckoo Clock sound inane these days but they are clever constructions.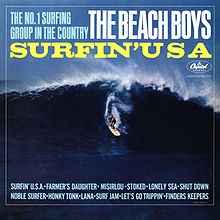 No one is going to praise the lyrics across these two albums which are simply boy/girl, cars, surfing and fun in the sun, but the way the voices meld and move apart, the smart lead guitar parts (shared by Brian and brother Carl) and brother Dennis' tight drumming made for songs which were almost the emblem of Southern Californian pop perfection.
And on songs like Farmer's Daughter, the delicate Lonely Sea, the falsetto Lana and even the tight Noble Surfer, Brian Wilson reaches into other areas which would provide him with a path away from the beach and into the studio.
Little wonder these songs were so often copied and mimicked by other surf bands at the time, both in the USA and abroad.

These two albums as a set are just $15 at JB Hi-Fi stores here and -- because of that film -- we thought we'd bring them to your attention.
Yes, they are naff in places . . . but genius doesn't just emerge overnight. Here was where it got its first workout, and if you listen without prejudice you can sense it coming on.