Graham Reid | | 1 min read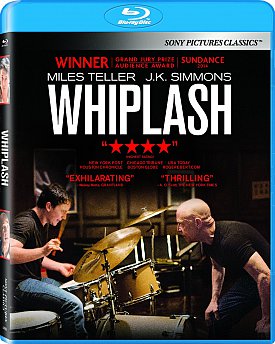 When this gripping drama about an aspiring young jazz drummer and his emotionally abusive tutor was released in cinemas last year Elsewhere warned that "jazz people" -- protective of their turf and picky in the extreme -- wouldn't like it.
And sure enough . . .
Most critics loved it (as did audiences) but inevitably there were articles saying no self-repecting young drummer would have Buddy Rich as their idol (really?), that music academies weren't like that, it perpetrated the myth of genius being possible through hard work, no tutor could be as brutal as Terence Fletcher (J.K. Simmons at his bullying best, more menacing than Heath Ledger's Joker) and so on.
Which to me is like saying no army would have a soldier like Bill Murray in Stripes, schools like Howarts don't exist and the Sundance Kid didn't look like Robert Redford and never rode a bicycle with anyone as pretty as Katharine Ross.
These are fictions and -- although Whiplash is based on the experiences of writer/director Damien Chazelle -- that means great liberties are taken.
Anyway, the backdrop of Whiplash may well have been jazz but that was not the story. It was about ambition, drive, power relationships, heartbreak and so on.
It is an utterly compelling film . . . unless you expect to see a jazz doco about students and tutors in a music academy.

The reason we mention it now is that the Blu-Ray is part of a two-for-$25 deal at JB HiFi stores here . . . and among the others on offer are Tom Cruise in his best role in a while in the much overlooked Edge of Tomorrow, Brad Pitt's occasionally exceptional Fury, Gremlins . . .
You know the drill. It's winter and wet outside so . . .