Graham Reid | | 1 min read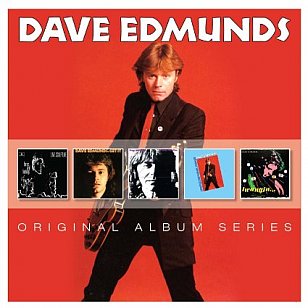 Because his running mates at the time Nick Lowe and Elvis Costello wrote better songs and had more distinctive voices, Dave Edmunds always ran a distant third. And when the Stiff label took off at the end of the Seventies, he was sometimes even further back in the rankings.
Born out of the pre-punk pub-rock period in London, singer-guitarist Edmunds had first come to attention in the late Sixties with Love Sculpture in Cardiff whose single Sabre Dance was speed-freak, incendiary guitar version of the classical piece by Khachaturian. (Their version of Chuck Berry's You Can't Catch Me on their album Forms and Feelings was delivered at similarly breakneck speed.)
Love Sculpture didn't last long, Edmunds enjoyed a solo hit in '70 with his version of Smiley Lewis' I Hear You Knockin' (John Lennon's favourite single at the time for irs retro-rock'n'roll appeal) and then he got seriously into production (Brinsley Schwarz, Flamin' Groovies) before hooking up with Nick Lowe to form Rockpile.
Although much admired they too split after a short career and Edmunds embarked on more production and a solo career.
Although quite capable of tripped out material (Why with Love Sculpture), his favoured style was retro-rock, pub-rock and a large measure of rockabilly, on which he often deployed his multi-tracked and echoed vocals.
So across these five albums you get covers of material by Bob Seger (Get Out of Denver), Hank Williams (Hey God Looking), Otis Blackwell (Let Talk About It), plenty by Nick Lowe (I Knew the Bride, Heart of the City among them), John Fogerty (Almost Saturday Night) and others alongside his originals, which are often similar genre pieces.
This five-disc collection is an odd mix of albums, the Love Sculpture from '70 and the rest from the late Seventies on to Twangin' from '81.
Dave Edmunds has been in a long semi-retirement but has popped up with Ringo's All-Starr Band and a couple of years back released a new album, his first in almost two decades.
But these albums catch him when he almost hot, almost always unfashionably old fashioned and just making music which he enjoyed.

That no one else other than his loyal friends and a diminishing fanbase seemed to care didn't seem to worry him in the least.
Dad rock for the car to be played loud.
And a cheap thrill too: these five in replica sleeves are just $15 at JB Hi-Fi stores here.