Graham Reid | | 1 min read
Hard to believe but it is getting close to 25 years since the release of the first, self-titled Foo Fighters album, essentially a solo album because former Nirvana drummer Dave Grohl recorded it himself playing just about every instrument.
It remains a classic pop-rock album -- some felt it not grunge enough but that door was closing after Kurt Cobain's death a year previous -- and was a springboard for Grohl's reinvention as a frontman singer-guitarist.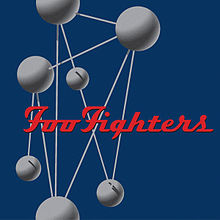 The album still offers many pleasures and some of the songs pop up in Foo Fighters' set lists even today.
The Colour and the Shape of two years later consolidated the idea of Foo Fighters as a band with Nate Mendel and (sometimes) Pat Smear in the touring unit.
We mention these two albums now because they are part of the terrific two-for-$20 deal on Foo Fighters albums at JB Hi-Fi stores here.
Also in the deal are There is Nothing Left to Lose, One By One, In Your Honour, Skin and Bones, Echoes Silence Patience and Grace, and a Greatest Hits compilation.

That's more than a decade's worth of cheap as chips Foo Fighters right there.
A real Bargain Buy.