Graham Reid | | 1 min read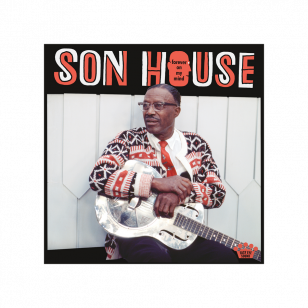 When Mississippi-born Son House was rediscovered in the early 1960s, he was 62 when researchers tracked him down, working as a cook, on the skids through alcoholism, didn't own a guitar and hadn't played music for years.
But the renewed interest saw him touring again – with medication to control his senile tremors and after having been re-taught his own songs.
He appeared at the 1964 Newport Folk Festival and played many other high-profile dates, recorded again in 1970 but then retired four years later due to ill-health, although lived to 86.
His small but influential catalogue of Delta blues included the extraordinary Death Letter (covered by Cassandra Wilson, White Stripes and others) and the testifying John the Revelator adapted from Blind Willie Johnson (Gillian Welch, Tom Waits).
His music has an earthy honesty won in a hard life: he'd been a preacher, served time for murder, was married many times.
Now a cache of previously unreleased songs has arrived through the blues label Easy Eye Sound run by Dan Auerbach of Black Keys who has restored them from low-key recording sessions which took place shortly before House's re-emergence. You sense he's singing and playing for himself rather than the expectation of an audience.
Here mortality stalks his world in an even more lean and haunting Death Letter and the title track, there's earthy cynicism on Preachin' Blues("I wanna be a Baptist preacher so I don't have to work") and his aching Levee Camp Moan.
Most of these songs will be familiar to blues aficionados, but these different versions give them new life.