Graham Reid | | 4 min read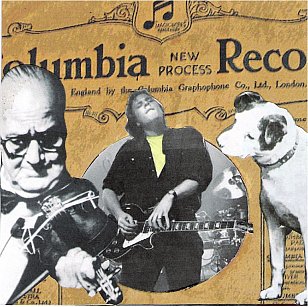 Sitting in his Sydney hotel room, Canadian guitarist Jeff Healey talks lovingly about his collection of 11,000 78rpm records ("I bought another 30 or 40 today in a shop near here.")

And he talks about how he played with Albert Collins onstage in Toronto as that guitarist's guest. It was the turning point in his career.

At the end of halt an hour when Healey is called away for a radio interview, he realises his blindness hasn't been mentioned. He's relieved.

Over the past year since his See The Light debut album started getting serious attention. he's had to answer some pretty dumb questions - the best?

"What does it feel like to be blind?"

But the man is a musician and a bit of a musicologist whose passion is playing the guitar and collecting old jazz 78s.

He could have remained simply a man with a private passion and a huge record collection if lt hadn't been for the '85 concert with Collins: "All that happened really was I met Albert a couple of days beforehand. A friend had talked to him about my playing and Albert invited me up with him for about an hour. We had a good time and he invited me back to play again on the Saturday when Stevie Ray Vaughan was also playing.

"Albert had never heard me play before I got on stage, not even in a backroom.

"That was a turning point in my development because it broke me on to the Toronto scene, which is a hard one to crack.

"It's easy to get swept under the bridge there and I wasn't even getting off the pier. I was just working the suburbs and this was my one chance to ride it and see - or go back to the suburbs. I didn't even have a band at the time."

Curiously enough, it has been said Healey started out listening to country music in his hometown of Toronto -- hardly the country capital of North America?

"Actually I grew up listening to all kinds of music from country to jazz and took formal music lessons for piano and theory. I got it from all sides of the family - parents and aunties -- I was just fascinated by music.
"Toronto is about the third largest music centre in North America outside Los Angeles and New York. Every night of the week you can go out and find any type of music you want."

Healey started searching out live music from an early age. He got a small guitar at three, a Gibson SG copy at 11 and by his early teens was playing country music in clubs with musicians more than twice his age.

What set Healey apart then - and now - was his extraordinary technique. Videos have brought it into living rooms as far away as Auckland these days. But at the time, word-of-

mouth told of the blind guy who sat with a guitar on his lap, formed chords by thumping down his left-hand fingers and pulled or bent strings with his right - and then leaped up, tossed the guitar above his head and could keep on playing.

It stung Healey when people thought his style a gimmick or exploited it to get attention for the band.
"A number of people still think it is gimmick, but I started playing that way out of comfort and that's all I know."

For years he played the Toronto club circuit in all types of bands "just worklng with pick-up musicians. Those suburbs were a good learning experience because I had to play a lot of different styles before different audiences."

Healey also played trumpet in Dixie bands and got a one-hour radio show on a campus station, two interests he keeps up today.

"Dixie is an umbrella for traditional jazz, which is really where all improvisation comes from. We've been using improvisation for all the styles of music like jazz and rock'n'roll to follow.

"I still pre-tape the radio show whenever I'm in town for a couple of days. I do about five one-hour shows in a day."

But increasingly Healey, bassist Joe Rockman and drummer Tom Stephen are not in Toronto. Since the success of their album they have toured steadily, appeared in the new Patrick Swayze movie Road House (their new single is a cover of the old Doors songs Road House Blues) and are planning a new album for November recording sessions.

Healey promises the same kind of diversity which marked See The Light - an album with a blues edge but no particular pigeonhole it can be easily put in.

"The first album has a lot of things on it - the link ls they are all emotional styles of music which are spontaneous. As a live act I approach things as a jazz musician might - there's a structure but all the solos are improvised and there's a freedom within the structure.

"We weren't deliberately showcasing on See The Light, it's just what we do. The worst thing you can do is separate out a style which you want to go with.

"You shut down your range of creativity."

Like this? Then check out the interviews, reviews and overviews at Blues in Elsewhere.