Graham Reid | | 3 min read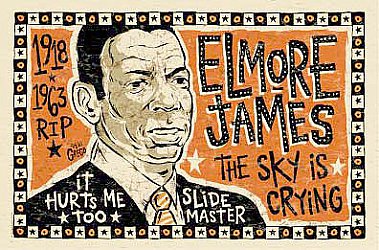 It has been almost half a century since Elmore James bent over to pull up his socks before going out to play in an Chicago nightclub . . . and went face down on to the floor with his third and final heart attack.

Although he was not widely known, the world lost a good one who left an immense legacy.

James had an agonised vocal style and brutal slide guitar playing which no doubt owed its relentless, attacking style to his first instrument, a wire attached to a broomstick and played with bottle or can.

He has always found favour among blues-rock musicians from John Mayall (who recorded numerous James songs in the early Sixties, including James' classic Dust My Broom) to the Black Crowes, whose debut album, Shake Your Money Maker took its title from a James song.

Eric Clapton and Stevie Ray Vaughan have both covered Sky is Crying, Jeremy Spencer of olden days Fleetwood Mac was a James disciple, and the Allman Brothers used to do Done Somebody Wrong. They had Sky is Crying played at brother Duane's funeral.

Elmore James (born in Mississippi as Elmore Brooks in 1918, died 1963) has not really had his due from compilers of his dozen or so years of recordings. That is largely because he bounced around from small labels until Chicago record shop owner Bobby Robinson nailed him down in '59 for his final four years.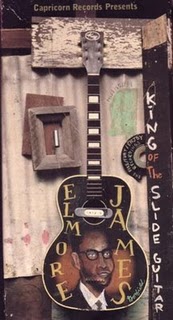 The '93 collection King of the Slide Guitar -- there would be none so bold as to challenge that title, surely? -- gathered 50 Robinson-years tracks on to two discs in a box which included excellent versions of all his best-known songs: Sky is Crying, Dust My Broom, Done Somebody Wrong, Moneymaker and Standing at the Crossroads, his version of the Robert Johnson classic on which he takes composer credits.

Plagiarism is endemic in the blues, but James always seemed particularly cheeky. Even his classic Dust My Broom is of questionable authorship (Johnson had I Believe I'll Dust My Broom and there were other versions even earlier). James also frequently rewrote himself -- I'm Worried is a minor variant on Broom for example -- and numerous other James songs are connected at the hip. His songs work in a few small closed circles.

That's hardly a big deal because James -- inducted into the Rock and Roll Hall of Fame in '92 by Robbie Robertson -- brings anger and often seething rage to his vocals and scary guitar.

He may have had a tortured spirit inside, but James was a snappy dresser on stage and enjoyed practical jokes. The box's comments by sideman and label head Robinson unfortunately give only small insights into James the man, but the music here confirms a comment by Lawrence Hoffman of Living Blues magazine: "It's kind of a moot point to review James' music -- it's like commenting on a primary colour."

His raw elemental sound -- derived from Johnson and elemental in its aggressiveness -- popularised the rural Delta blues from which it was drawn, but its very intensity provided source material for another generation of blues musicians who would appear around the time of his death, and they were mostly white and English.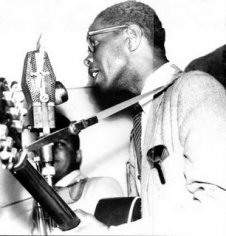 But it wasn't just the blues aficionados who recognised him: on the Beatles' For You Blue -- a Harrison composition on which Lennon plays James-style slide guitar -- Harrison says, "Elmore James' got nothing on this baby".

After the astonishing sales success of the Johnson box set -- half a million sold and still going -- it wouldn't be surprising to find King of the Slide Guitar shadowing it.

James deserves, albeit belatedly, that kind of recognition.

After all, Clapton, the Black Crowes, Jimi Hendrix (who briefly called himself Jimmy James and recorded James' Bleeding Heart), Mayall, Roy Buchanan (who wrote Tribute to Elmore James) and Stevie Ray Vaughan can't all be wrong about this man whose music, according to Bob Marley biographer, the late Timothy White, is "fused in a passion fierce enough to strip the paint off Heaven's gate".

Like this? Then check out the interviews, reviews and overviews at Blues in Elsewhere.