Graham Reid | | 1 min read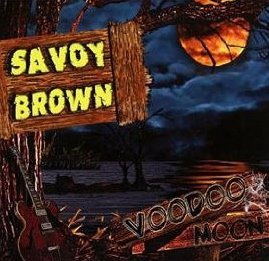 Many years ago Pete Frame would produce books of meticulously drawn family trees of rock bands. His Sabbath Bloody Sabbath tree filled two tightly written gatefold A5 pages and traced Black Sabbath back to bands that Ronnie Dio and Bill Ward were in around '64.
I don't recall ever seeing a Frame family tree for the British blues band Savoy Brown (although they did get a passing reference in the Sabbath tree) because I suspect Frame decided he didn't have that much time in his life.
Formed in '65 and with the sole constant guitarist/singer Kim Simmonds, they have had a merry-go-round of members and it actually comes as a surprise that a band under this name is still going. In the past 45 years members went off into (sometimes briefly) bands like Fleetwood Mac (when they were a blues band), Foghat, Chicken Shack, UFO and the Big Town Playboys (?) while some arrived from Jethro Tull, Chicken Shack . . .
You get the picture.
But here they are again, up to what must be about their 50th (at least) album with Simmons still enthusiastically peeling off classic blues licks and delivering a very nice vocal line on the moody original Round and Round.
Time is perhaps taking its toll a little as he admits on another original he sings, Natural Man: "I ain't no Jesse James or an outlaw on the run, a hoodoo man or the fastest gun . . . There's no John the Conqueroo in my pocket today, I don't have a magic spell to lead you astray, I don't have a voodoo child or a crawling king snake . . ."
Sort of an anti-blues blues song, but honest enough for all that. Simmonds is 64.
But -- with yet another line-up around him -- Simmonds' playing doesn't sound diminished by the years and in fact, and this is accepted in the blues, he is probably getting better by playing less and being more considered. You do wonder why he needs vocalist Joe Whiting however who, good though he is, is hardly distinctive and Simmonds acquits himself well enough on his two vocals.
But, as the final track title says, this meets the blues head on in a slightly wordy, sometimes near-rock way (She's Got the heat with some slewing slide, Meet the Blues Head On).
Although it breaks absolutely no new ground, this is a fine late-career album from Simmonds and Savoy Brown, and doubtless won't be the last.
Collect the series? Ho ho ho.
Like the sound of this? Then check out this.