Graham Reid | | 1 min read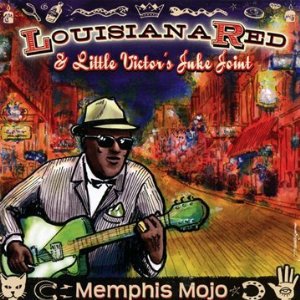 Almost an octogenerian, Louisiana Red (aka Iverson Minter) has understandably become a fixture on blues circuits. Born in Alabama and his father lynched by the Klan, he once recorded for Chess in 1949 before doing military service, and after that just kept playing the blues.
It wasn't until more recent times however that he became better known, but you'd have to say that might be for his longevity and backstory rather than for what he actually does.
He's a survivor and has earned the right to tell his stories, and he also has terrific help with the presence of players like guitarist/producer Little Victor and the roadhouse rhythm section(s) on this collection of a dozen seemingly workmanlike electric blues cuts.
But a closer hearing lets you recognise just how far back into the blues this throws itself. We might be the 21st century but some of what is here -- especially in the consciously ragged recording by L.Victor and L.Red's references to pickin' cotton in the standout I'm Gettin' Tired boogie -- does sound like it came from another, and perhaps just remembered, time.
And So Long So Long is beamed in from Memphis in about 1942, until L.Red starts to overtly reference Clarksdale when it actually wasn't necessary. Yep, we got it. Now we are being told we need to get it.
In fact, L.Red is sometimes the least of it when that rhythm section kicks in and L.Victor gets off.
As noted about his earlier album Back to the Black Bayou, L.Red is never going to rewrite the book, but his rejigging of familar ideas is interesting and has always been part of the blues contract (he does an creditable See That My Grave is Kept Clean, the sole "cover" among the "originals") . . . but you do need to hear the exceptional Grandmother's Death right at the end.
That is truly, a Lo'have mercy moment.
Louisiana Red died in Germany on February 25, 2012, a fortnight after this review appeared.
Like the sound of this? The start your blues listening here.