Graham Reid | | 1 min read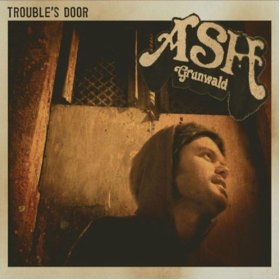 Australian Grunwald is a one-man dreadlocked folk, rock and boilied-up blues singer-guitarist, and live he certainly delivered well received sets at the recent Womad.
But, as with so many Womad acts, he captures you in the moment but it doesn't quite translate on repeat encounters. I saw both of his sets and was blown away by the first and watched quite dispassionately at a repeat showing when he fired off the same ammunition and rather obvious crowd pleasing manoeuvres.
Still, no one expects musicians to reinvent themselves from one night to the next . . . so you might take that observation/comment as irrelevant and pass on lightly perhaps.
Grunwald -- using percussion loops, and vocal distortion to turn himself into 65-year old black bluesman from a plantation -- has two reference points: at the lower end of his spectrum when he's low and moody you might think of AA Bondy or the slacker blues of early G. Love and Special Sauce. And when he's swallowed gasoline and lit hmself on fire he'd as powerful as George Thorogood and the Destroyers (at their best, not the through-the-motions-George of recent memory) or even the early Black Keys in Detroit blues mode.
That is all good and enjoyable for very different reasons -- if a little obvious sometimes -- but here he also delivers the well intentioned but clumsy Nervous: "You told me how you can't stand those refugees, spoken like a redneck, you tell me how your forefathers came here on a boat yet you dont see the irony". Written out like that -- and in places in his delivery -- you might actually think "Jemaine Clement", and when it just kind of fades away you are left wondering when the punch was coming.
He also aims for political content on When You Need 'Em which doesn't exactly send you to the barricades. His straight-ahead but plodding Ramblin' Man and What You Had (which also peters out with no great impact) seem weak in the company of exciting material like The Demon in Me (think RL Burnside or T Model Ford being channeled) or the electric chug of the dance-inducing Shake That Thing which open this album. Or the hypnotic Trouble's Door.
So this is uneven and unfortunately places its adrenalin fueled aces up early. Get past the first third and the returns are less convincing or interesting.
Looking for the down and dirty blues? Try this.