Graham Reid | | 1 min read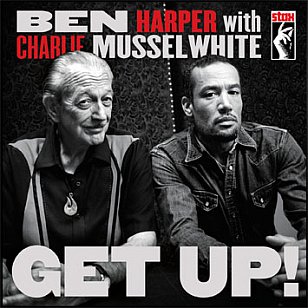 To be honest, the first couple of times I saw Ben Harper I walked out being bored witless by a man I jokingly came to refer to as "Taj Marley" because he simply seemed to weld together the most crowd pleasing aspects of Taj Mahal and Bob Marley.
I faithfully listened to his many albums down the years but only rarely found them genuinely interesting (and Eric Bibb was doing much more challenging stuff but being largely overlooked).
Harper's There Will Be Light in 2004 with the Blind Boys of Alabama was the first I though exciting and different, and now this excellent pairing with longtime Chicago bluesman Charlie Musselwhite on harmonica.
There is a raw edge to these songs which are dedicated to the late Solomon Burke and John Lee Hooker: the former's spirituality on We Can't End This Way and latter's spirit haunt the gutsy I'm In I'm Out and I'm Gone.
They reach back to the mythic on the moody story of a soldier's self-belief on I Ride at Dawn, and Blood Side Out sounds channeled direct from a Chicago South Side bar in 1960 when Howling Wolf has just walked in the door with a blade and a broken bottle.
There is pure rage on the thrilling, sandpaper-sound of I Don't Believe a Word You Say and street-croner blue and anger on the title track, just as there is persuasive sensitivity at the other end of the spectrum on You Found Another Lover and the redemptive closer All That Matters Now.
Tight and well-written songs that have a broad emotional and topical reach, and delivered by two players at the top of their game together.
Taj Marley? I take it back.
Like the sound of this? Then check out this.