Graham Reid | | <1 min read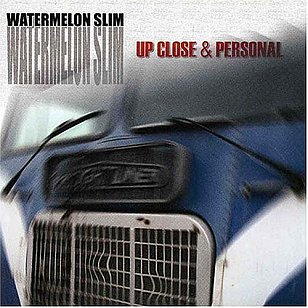 Not only does white bluesman Watermelon Slim sound like the blackest 1940s blues player that ever was, but he's also has had an extraordinary life. Believable if you read it in a novel, but all true.
Check out his backstory in this archival interview at Elsewhere and also have a look here for his music, then close your eyes as he transports to to Southern juke-joints or -- as on this 2004 album being made available again on the eve of a New Zealand tour -- to the backroads of the 40s via poker games, highway songs, metaphors of life and death, and betrayal.
He covers Sonny Boy Williamson, Howlin' Wolf, Muddy Waters and Mississippi Fred McDowell, but his own songs sound like they have been transported in from that era too.
The opener Truck Holler #1 is exactly the that, a field holler from the front seat of a big rig, but it is in pieces like Cynical Old Bastard ("they tell me everything's gonna be alright, but they never tell where or when") that his authentic voice from a life of hard living comes through.
He's a journalism and history graduate with a masters in history.
He's mastered some kind of history, that's fer sure.
Dates on Watermelon Slim's extensive New Zealand tour which has just srarted can be found here.