Graham Reid | | 1 min read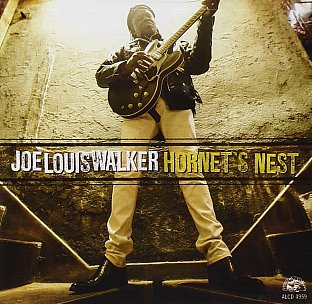 The furious and fiery, award-winning 64-year old Joe Louis Walker is, of course, a bluesman . . . but you could equally file some of his material under "rock" and even "hard rock". Or "gospel blues" if you catch him in another mood.
With about 20 albums behind him -- with titles like Hellfire, Playin' Dirty and Blues Survivor -- Walker has an attack as distinctive as Albert Collins and Buddy Guy, and has counted among his pals (living and dead) Bonnie Raitt, Otis Rush, Clarence Gatemouth Brown and Mike Bloomfield.
It was after Bloomfield's death in the late Sixties that Walker dropped out of the blues (he went to university and graduated in English and music) but almost two decades later he returned and since the Nineties he has been a major threat.
Elsewhere has always been happy to champion him (see here) because he rarely holds back, can sing like a menace to civilians and plays stinging (or molten metal) guitar.
This album finds him rocking through originals and material co-written by producer Tom Hambridge, tripping back to a slippery version of the old standard Don't Let Go and going way back to the mid Sixties for an obscure Jagger-Richards song Ride On Baby (which appeared on the cobbled-together Stones album Flowers) which is kinda fun but perhaps among the lesser moments here . . . until its closing overs as a boogie-down.
The best material is, as always, when Walker unleashes the beast: The opening title track sets you on notice; All I Wanted to Do which follows has the current Memphis Horns punching it up while Walker gets soulfully annoyed with his woman; the shout-out crowd-pleaser Soul City written by Chris Andersen from Charlie Musselwhite's band allows Walker to channel Sly Stone (Tommy MacDonald's bass line) and wah-wah; Not in Kansas Anymore sounds like the Who-meets-Bon Jovi in a biker bar . . .
But he also gets considered and soulful at times and the closer Keep the Faith shows his softer and sensitive side.
If blues was on more people's radar these day -- as it was in the Sixties or when Stevie Ray Vaughan was a star -- you'd hear speak of Joe Louis Walker as one who is not only carrying the torch, but the guy setting alight to the fields and laughing as flames and smoke fill the sky.