Graham Reid | | 5 min read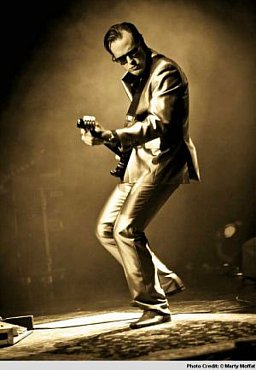 Joe Bonamassa – the 37-year old Grammy nominated blues-rock guitarist considered one of the finest players of his generation – is talking about what he does when he takes a break.
But first let it be said, he rarely has down-time. In fewer than 15 years he's released 11 studio albums under his own name and two with gutsy soul-blues singer Beth Hart (many with DVD footage), three with the blues-rock supergroup Black Country Communion, has toured relentlessly, runs a radio programme The Pick Up about guitars, is the prime mover behind the Keeping The Blues Alive Foundation, has played with Eric Clapton, B.B. King and other blues masters . . .
"Yeah, we just keep it coming," he laughs. "The core fans want to hear what you're doing and if you're prolific then so much the better."
So when he takes a break in October after playing in Auckland (date below), Australia and Europe what will he do?
"I won't do anything, just stay and home and play guitars. That's what I like to do. I just don't have to travel 15 hours to do it."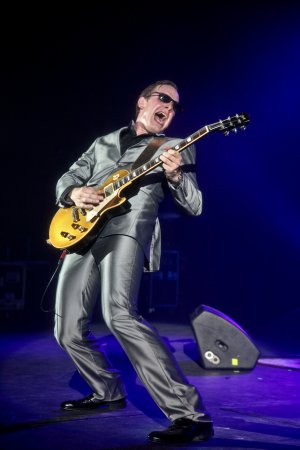 When this call catches him in California however he's just back from filming around the Mississippi Delta and is preparing for a show at Red Rocks, Colorado saluting two of his heroes, Muddy Waters and Howling Wolf.
"The filming was for bonus footage for the DVD we're going to shoot at Red Rocks. The point is Muddy Waters and Howling Wolf were from Mississippi but are known as Chicago blues musicians, so we were asking why did so much great music – from B.B. King and Muddy Waters to Howling Wolf, Son House, Robert Johnson, Charlie Patton and Mississippi John Hurt – come from a 30 to 40 mile radius."
Bonamassa says they traveled in a 50s Bel-Air Chevy, visited the famous Crossroads near Clarksdale where Robert Johnson allegedly made a pact with the Devil ("touristy, didn't do it for me") and went on to nearby smalltown Rosedale.
"Rosedale felt right. You are 500 yards from the levee and five miles from where the levee broke in 1926, and the tamale stand is still there from 100 years ago so you start thinking about songs like Hot Tamales and Red Hot. You think, 'This it it, he was here'."
And did he answer the question of why from here?
"To get from Memphis to Clarksdale is about an hour and half, but you think about how hot it is, how straight the roads are and there's nothing but agriculture. There's no 7-11 stores and in the 30s there was just nothing, just the dirt road.
"You think how hard to was to travel from Clarksdale to Memphis and even from Clarksdale to Rosedale. If you didn't have a car or could hitch on the railroad, that was a hard life.
"It's still a hard life down there. So you start seeing the imagery, the landscape, the agriculture-based society and think what if you were working the fields in the heat of summer . . . You start feeling the palpable desperation at that point where people thought, 'I'm going to sing my way out of this if it kills me'. And it killed a lot of them.
"So did alcohol and fast lifestyle, but it's a magical place in this world, especially if you're a blues fan. You just get down there and you hear the cicadas and the forest talking to itself and it's 100 percent humidity and 90 degrees . . . there's something fascinating in this particular world."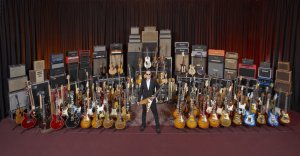 Interestingly, Bonamassa has always been candid about his early influences, they weren't the black blues guys from the South but British rock guitarists like Clapton, Jeff Beck and Jimmy Page, and especially the much underrated (and late) Rory Gallagher from Ireland.
"You have to be honest, I learned the music from those guys and not the masters, although I've subsequently gone back and found them
"Gallagher was a blue collar hero. He reminded me of my father, he made as honest a music as you could ever find, there was no pretense, no pomp and circumstance. It was just cool music. I think ultimately too much hype and stuff around an artist dilutes the art. You gotta be able to just pick up a guitar and sing, that's it.
"It's not that hard to go out and do what you love to do."
What he loves doing at the moment is a two-parter show of acoustic and electric sets, that's what Auckland will see.
"It showcases the songs better in the acoustic set, and there's less soloing obviously. Essentially it's two different shows and we're opening for ourselves," he laughs.
That pragmatic and myth-denying approach was inculcated early.
"Nobody would sign me to a label and nobody would book me. Now it's myself and my manager and we are both crazy mavericks, it totally gives you independence and that feeling that I can just go and do whatever I want. . . . I don't think it's a huge audience [for the blues] but I think there is an audience. The people want to see it but everybody has a tendency to write off the blues."
And Bonamassa has played with some of the best in the business.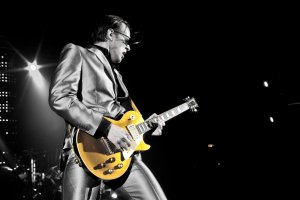 "There was a bunch of really great people I've got to play with and B.B. King has always been somebody I really admired and have worked with in the past, but also Paul Rodgers, Eric Clapton . . . Those guys are the masters to me. But then we refer to Son House and Lonnie Johnson because they were their masters, so everybody has got their influences.
"These guys like Eric are deep musicians, they are much deeper than people give them credit. Sometimes it's what they don't play, sometimes it's where they place the vocal or the notes, the music may seem very simple but ultimately it's very complicated."
He downplays his radio programme The Pick Up ("it's just me talking about guitars which is pretty straightforward") and also is modest about the Keeping The Blues Alive programme: "It's about giving back to the kids and the fans who have helped you along the way, and the schools. It's just doing things from your heart which ultimately can get a little bit lost."
Today he is fiercely independent to the point of booking his own shows and just doing what he likes. When he doesn't like it, he stops . . as he did with Black Country Communion formed in 2009 with bassist/singer Glenn Hughes (Deep Purple, Black Sabbath), drummer Jason Bonham (recent Led Zeppelin) and keyboard player Derek Sherinan (Alice Cooper).
"It was a side project for everyone until people decided it was the best thing they had going on. But that didn't work for me. I never wanted to play 70s rock'n'roll for the rest of my life, that wasn't part of my masterplan."
And is there a masterplan?
"Doing exactly what I want to do. Why not?"
Joe Bonamassa and band, Auckland Town Hall, September 12