Graham Reid | | 1 min read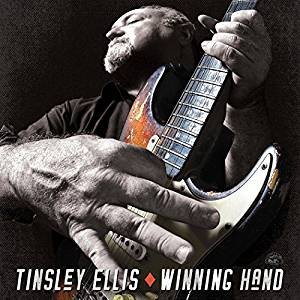 The remarkable thing about Chicago's Alligator label – and singer-guitarist Ellis who started his career on it three decades ago – is just how consistent the quality of their innercity blues has been.
Often you hear a new Alligator album and feel that time stopped back in the hard-scrabble days for raw blues back in '66 or maybe '76.
Another of that American generation who learned the blues from listening to British r'n'b bands and their guitarists in the Sixties when he was growing up – then graduating through Hendrix while also going back to sources – Ellis channels all of those influences. But they are embedded so deep that when he steps out he brings something distinctive (and frequently Southern and slightly funky reflecting his background in Florida and his birthplace Atlanta) to whatever he does.
So on this album where that enflamed or needle-sharp guitar playing is to the fore – for plank-spankers the liner noters tell you what axe has been deployed – alongside his Chicago-influenced and black-sounding vocals.
While you may hear brief allusions to everyone from Junior Wells and Buddy Guy through various Kings to Duane Allman, and accepting that sometimes the song is just there as the vehicle for the playing, this is a tour de blues outing recorded, oddly enough, in Nashville.
Albert Collins styled himself as the Ice Man but Ellis – whose early albums included Fanning the Flames and Fire It Up – could rightly claim on the evidence of his blowtorch playing to be the Flame Thrower.
That said, he delivers with economy and focus so this album is balanced by songs when he drags you in with his soul edge on the slower numbers: The regret-filled original Gamblin' Man (like BB King at his mid-period best, but with more blaze'n'ache in the guitar); the intimate Autumn Run ("things we call pain we used to call fun"); the fearful Don't Turn Off the Light and the disturbingly raw closer Saving Grace.
And on Leon Russell's Dixie Lullaby – the only non-original here among the 10 tracks – he goes right back to those Southern roots with fellow traveller and longtime band member/co-producer Kevin McKendree hammering the ivories like they were in cramped boogie bar off the interstate.
Now on Alligator after a time away, 60-year old Ellis sounds right back home . . . but with restless feet always ready to run and a guitar prepared to throw flame.