Graham Reid | | <1 min read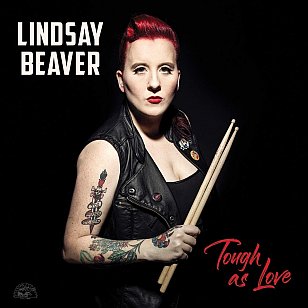 For her Alligator debut singer/drummer Lindsay Beaver lives up to the label's remit of tough blues, and the album title.
She's a real blues belter in the manner of Etta James (but in front of an augmented power trio) but can also flip back to late Fifties rock'n'roll and New Orleans rock'n'soul (Don't Be Afraid of Love with Marcia Ball on piano-hammering duties on the former, as Fats Domino on Too Cold to Cry), nods to the tradition (Got Love If You Want It) and gets raw'n'funky on Art Neville's Let's Rock.
From discovering Hendrix at 14, then jazz, blues and punk, studying jazz in Canada and playing around Austin, opening for Jimmie Vaughan, releasing five albums before this and more, she now has a catalogue of styles to draw on as she does here.
It's powerful, sometimes soulful and bar-shaking (Oh Yeah designed to raise the roof) she seems intent on doing for Chicago-styled blues what Stray Cats once did for rockabilly . . . taking it to an audience by making it hip, familiar, energetic and popular.
Longtime electric blues listeners probably won't hear anything here they haven't heard before but Beaver acquits herself well and the band of guitarist Brad Stivers and bassist Josh Williams (and guests) play it skin tight.