Graham Reid | | 1 min read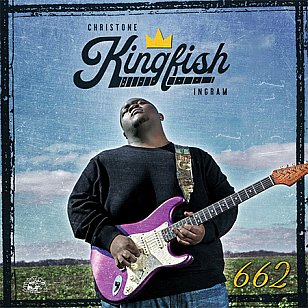 When the then-20 year old Christone Ingram (aka Kingfish) released his self-titled debut album in 2019, Elsewhere was all over it because here was a genuine blues artist (born in Clarksdale, this album's title is the town's area code) who was bringing personal stories, deeply-felt blues tropes, had Buddy Guy and Keb Mo on board and was as comfortable on hard-edge Chicago (and post-Jimi) sounds as in dirty hands Southern blues.
The album was nominated for a Grammy and he also won five (yes five, count 'em) Blues Music Awards, including best album.
He's the blues singer-guitarist that rock artists admire because he fires up like Buddy-Jimi-Prince but also has some serious messages ("where does hate come from?" he sings on the spare and measured Another Life Goes By here).
There's more autobiography also: I'm Not Gonna Lie, and Too Young to Remember in which he links to musical and cultural memory. Something in the Dirt is a speculation on what it is about Mississippi which birthed the blues, with rolling piano.
As before this is isn't all fire and fury: the downbeat You're Already Gone; the jazz blues lament of That's It All It Takes; the streaming bonus track Rock and Roll which is about the support his late mother gave him so he could "sell my soul to rock and roll".
He only rarely takes the route into evil temptresses/bad women (You're Time is Gonna Come).
Christone "Kingfish" Ingram is once again utterly persuasive, highly listenable and -- at more than 50 minutes -- this collection doesn't once wear thin its welcome.
.

You can hear this album on Spotify here.
It is available from Southbound Records in Auckland.