Graham Reid | | 6 min read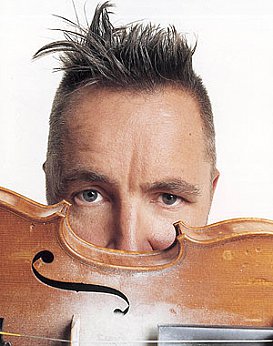 For the former bovver-boy of classical music who gave it quite a kickin' he's, like, clockin' on a bit. Knoworrimean? He's like, 46 now. But it's cool man because, you know. Whatever, s'all cool. Awright then?
Nigel Kennedy - now back to his full name after a brief rock-like digression into surname-only territory - is in the Etruscan Room of the luxurious Home House in London. It's 8pm at the end of a full day of interviews in the hotel and he has just been brought a coffee.
"Cheers Magda, this'll make me more alert," he laughs. "God knows wha' I've been talkin' about today, man."
Probably just about everything. With the cocky Kennedy there's always plenty to talk about.
His East Meets East album with a Polish trio, the Kroke Band, has jumped up the classical charts internationally. It has been at the top of the New Zealand classical album chart for much of 2003.
And he has also recorded Vivaldi's Four Seasons again, this time with the Berlin Philharmonic. Fourteen years ago he took on the popular Vivaldi cycle and the album sold two million copies.
While derided by some (as one who recorded an album of songs by rock legend Jimi Hendrix, he accepts the compliment that his fiery cadenzas could be called "post-Hendrix"), it made him a concert hall magnet.
The upper middle-class boy who grew up under Lord Yehudi Menuhin's wing -- Menuhin personally paid his fees at Juilliard in New York -- also gained a profile for his mouthy attitude.
He came of age in the punk era and fell into adopting their mannerisms and off-kilter clothing. The image didn't hurt sales and was milked and encouraged by his canny longtime manager John Stanley, whose career had been in pop promotion.
That was long ago, and while some might say the Mockney attitude has worn thin -- he still swears like a midshipman -- it is impossible not to like the quick-witted Kennedy. The manner which once alienated stiff-necked classical patrons is, like Mick Jagger's similar affectations, now eccentrically charming.
In his favour, Kennedy has always been musically ambitious. If his reach has sometimes exceeded his grasp -- and some delighted in his failures like his "jazz" work, or shook their heads at the Hendrix album -- the criticisms diminish his lineage and aspiration.
His mentor Menuhin was similarly unconstrained by the classical tradition and recorded groundbreaking music with Indian sitar player Ravi Shankar (on West Meets East), and played The Great American Songbook with jazz violinist Stephane Grappelli.
In a career symmetry, Kennedy -- who has a house in Krakow where he and his Polish wife Agnieska Chowaniec spend three months of the year -- is artistic director of the Polish Chamber Orchestra, a role Menuhin also held.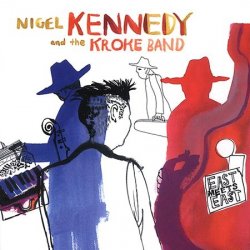 Menuhin might approve of East Meets East, the title a homage to his cross-cultural album with Shankar. It is a collection of dark, moving songs and sometimes joyous Jewish klezmer tunes performed with a trio Kennedy heard a few years ago then sought out. He enjoyed the sheer celebration of life in their music and is amused the album should be on classical charts -- it is reviewed in world music magazines also -- and widely described as Jewish klezmer.
"It's more Serbian songs on the album than anything else. But I'm not particularly enamoured with any kind of music. There's something more to music than style and I'm into music as a kind of universal consciousness type of medium, whether it's Bach or Miles Davis, or Kroke or Jimi Hendrix.
"Are we going to call Hendrix rock or jazz? He was inspired by many things, and the same with Miles. I like that type of artist, those overstepping the bounds of conception and parameters."
When the equally overstepping Kennedy who references rock, jazz, Polish and Indian musicians it is understandable why some in the classical world find him problematic, but he insists he has never had trouble with musicians. Or journalists "apart from when they're reporting third-hand stuff".
"It's mainly the administration and bureaucracy in the classical world. They don't like people altering the size of their box, you know. They just don't like having the fucking things altered."
After a quiet period -- he retired for five years from 1992 -- the plain-spoken Kennedy has raised eyebrows again with dismissive comments about British orchestras. He respects the musicians "and we have a fantastic time together, but people in the offices say, 'Oh no, our orchestra will not rehearse more than one hour' or something.
"At which point I just say, 'Well fuck off, if you don't want to work, then I'm not going to fuckin' play'. I don't want to deliver to an audience something insulting to the composer and also less of a level of performance than we're capable of. It's unfortunate in many cases in England the type of people orchestras have chosen to represent them. It's doing a disservice to the reputation of British orchestras. The musicians are some of the most talented in the world but the orchestras are being very badly represented."
And by making such comments does anything change?
"It's changed something in my life because I don't have to work with wankers like that," he hoots.
Kennedy is enjoying life more after his sabbatical. During that break, he read, drank in the local pub, played with the band there and just kicked back. Got to watch four seasons in his garden, too.
"It did seem ironic. I'd been promoting an album called Four Seasons for like two years, and travelling all around the world doing about 120 gigs a year, and I'd probably only seen about two [seasons] in five or six years.
"Having time off was cool, to see the four seasons in one place. So I settled down and was still making music every day, but I left the professional situation behind."
The time out allowed him to formulate projects, and mature. He brings the latter to the Vivaldi. He is reluctant to be drawn on how his new treatment differs from what he recorded 14 years ago. He hasn't listened to that original album -- "aside from hearing it when put on hold in a hotel, that's an honour" -- but says playing with the Berlin Philharmonic "offers you every colour on the palette to put on the canvas".
"With time and life I've seen four seasons now so I know a bit more about what that's about. My playing has developed as far as rhythmic freedom, tonal variety, pacing and versatility of sounds that you're going to use. I think I've got a bit more vision."
His work with Kroke -- simple folk melodies and original tunes full of melodic nuance -- has a greater sense of space and he is now less inclined to aim for "kiss-the-sky" flashiness.
"I like that essence of space. All music comes from silence in the first place and you need to be aware of that. Sometimes I've become tired of hearing myself play lots of notes, and when playing with others I'm often asking them to play less.
"If it's in the improvising genre the last thing I want is someone taking a solo and just playing blistering notes for half an hour. That's all been done, and it's how you throw spins and what space you leave which actually gives some perspective.
"I'm looking at the gift of playing a simple melody, with the meaning it has. A lot of rock guitarists, or classical violinists, embarrass themselves when they have to play a simple melody and can't."
As Magda brings biscuits he considers how his early celebrity allowed him to introduce classical music -- "which belongs to everybody" -- to all kinds of people.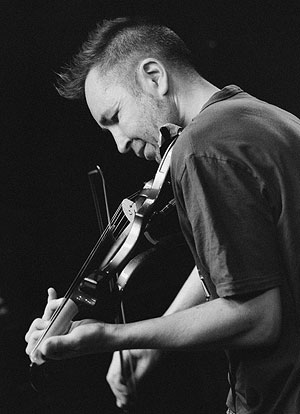 "Most composers, if they did write for a specific income bracket or class of people, it was only because of the social restraints they had to work in. I'm sure the ideal of someone like Bach wasn't in writing for a particular class, like religious people or the monarchy.
"He was writing music because of philosophical reasons. Musicians nowadays, the truly great ones, are not just making music because the record company pays them to, they're doing it because it's the kind of organic process in their life.
"It's a bit like a carpenter will make things out of wood, a musician will make stuff out of sound and that's just a natural process for someone who has been brought up with music. Music is the thing I do every day. I'm not trying to be a celebrity. What I do is music and if that can speak to people in some way, then that makes the circuit complete.
"Being a celebrity is not something I've concentrated on. I've not been traipsing around clubs trying to get my photo shot with the right people. I've never really been that conscious of it, except that it has been useful for helping communication.
"If someone comes up to me with a camera I'm not going to hide behind an umbrella. I don't mind people doing that particularly, but it's not something I'm looking for either. If some of these things have helped along the line, then that's great.
"And I've not had regrets, not really. I can't imagine a better job, if one can call it a job at all. You're doing something you love and there's a chance to visualise something either in your heart or head and make it real. There's not many trades where you can actually do that.
"I'm playing music every day and every day I enjoy it. Waking up, picking up the violin and saying, 'What am I up to today? I'll write this or that, or interpret this or that concerto'.
"It's a great life, man. Cool."