Graham Reid | | 4 min read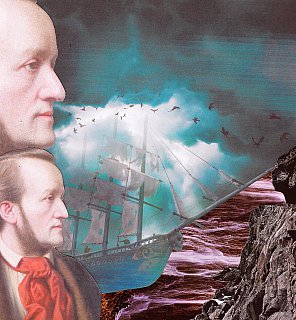 Some years ago when I interviewed Paul Simon, I brought up a topic I knew he'd be uncomfortable with. His Broadway play The Capeman.
The show – which had cost US$11 million by some estimates – was savaged by critics, the public stayed away and the thing folded after just 68 performances.
It was by no means the biggest flop on Broadway –- Kelly in '65 lasted just one night although was a considerably cheaper loss -– and certainly no means the biggest disaster in theatre.
When it comes to disasters Richard Wagner – who built his productions pretty damn big – must hold some kind of record for the revised Paris production of Tannhauser in 1859, the opera he had written 14 years previous.
It wasn't just that members of the audience on opening night made barking sounds (?) because they objected to the ballet coming in Act One, or that by the third night the audience was openly rioting.
It is that the production's failure to get to the fourth night needs to be put in perspective. There had been 163 -- yes that is correct, one hundred and sixty-three -- rehearsals before the cast even went onto the stage.
That's a lot a practice.
Then again, Wagner wrote some damnably demanding stuff, and not just for the performers. If you want to take in his Ring cycle you need to put aside a wedge of your life for about a week.
As Seb Hunter noted in his hilarious romp through classical music: "[Wagner] couldn't care less about anything as facile as symphonies, songs or sonatas; he was way more ambitious than that. Wagner set out to single-handedly unify the arts.
"Yes, modest Wagner's ambition was to invent some ultimate hybrid blending literature, theatre, music, poetry, performance, visual arts, the whole blinking caboodle into one all-encompassing and definitive art form. And his masterplan, his solution for achieving all this?
"Opera that goes on for ages."
Only the most ambitious or slightly mad companies would mount the Ring cycle (although Daniel Barenboim conducted the whole thing for this year's Proms in Britain). It's a monster, the duration of which, as Hunter points out, is so long that in the same period you could listen to Kylie Minogue's Can't Get You Out of My Head more than 250 times.
And even Wagner's first and undeniable work of genius The Flying Dutchman of 1841 – written when he was just 28 – can be quite a stretch. Although it is a much more economic – and therefore economically viable – work to stage.
His previous opera Rienzi (see this for the background to that odd character, and what Hitler took from it) was in five acts but The Flying Dutchman – which Wagner began to sketch out before Rienzi was finished – is three acts, which he – perversely, of course – wanted to be performed without breaks between.
The scenery is more concise also: two coastlines and two ships, and one domestic interior.
By Wagner's standards this was positively haiku-like.
And the music – where repeated themes appear and telegraph his later leitmotivs – is approachable and thematically coherent.
New Zealand Opera – in a co-production with Queensland Opera under the direction of Australian Matt Lutton and with stage design by Zoe Atkinson – is taking on this remarkable story in which Wagner melded narrative, song, philosophical ideas and the internal emotional lives of its characters into an impressive whole.
Originally Wagner located the story in Scotland (the legend on which it is based is British) but just before its premier in Dresden he changed the location to Norway.
In many respects it is a conventional opera and the story of a cursed sailor condemned to wander until he finds a faithful woman to love him is also not uncommon in mythology. (Think a variant of The Wandering Jew).
But it's that Wagner turned the audience's attention to the inner drama as much as the external action is what sets it apart. Wagner said this was the work which set him on the path to being a poet, not simply a journeyman in opera.
But Wagner said a lot of things.
That it is about wandering, love, redemption and self-sacrifice – women often offed themselves in Wagner's operatic world – has also made it popular with audiences. You can read a synopsis of the story here.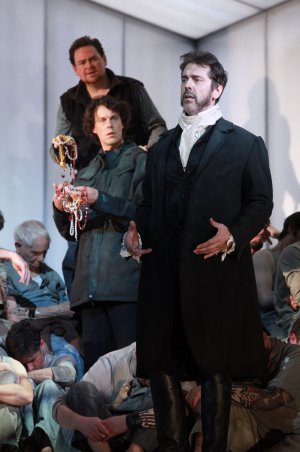 Aidan Lang, New Zealand Opera's general director is enthusiastic about the international cast assembled to perform it with the NZSO in Wellington and the Auckland Philharmonia in Auckland.
"The leading principals – Welsh baritone Jason Howard (The Dutchman, right), New Zealand bass Paul Whelan (Daland), and Irish soprano Orla Boylan (Senta) – have all received the highest accolades for their previous Wagnerian roles, while English tenor Peter Auty (an intense and superbly sung Turiddu in 2011's Cavalleria rusticana) makes his Wagnerian debut as Erik.
"In smaller roles, but also taking to the stage with all the right credentials are New Zealanders Shaun Dixon (tenor, The Steersman) and Wendy Doyle (mezzo soprano, Mary)."
Designer Atkinson admits she is new to opera and this is her first Wagner, but she brings a strong background in theatre into play for a staging which she says is "not traditonal, but nor is it that thing -- which I don't find particular inspiring -- which is recontextualising opera".
"I wouldn't want to just take this and put this on the deck of a contemporary yacht. It's more about us asking how we can illustrate the feelings and psychology of these people, rather than the physical environment Wagner has written them in.
"So it expressionism in that sense."
So here is bite-sized Wagner – in German with English surtitles – and the first by this musical giant to be staged in New Zealand in 20 years.
It should be fascinating. If nothing else, it has proven more durable than Paul Simon's The Capeman . . . and, just a guess here, will also outlast the forthcoming Broadway musical about Tupac.
Production photograph by Neil Mackenzie.
THE FLYING DUTCHMAN
Wellington – St James Theatre
Sat 14, Thu 19, Sat 21 September, 7:30pm; Tue 17 September, 6:00pm
Auckland – ASB Theatre, Aotea Centre

Sat 5, Thu 10, Sat 12 October, 7:30pm; Tue 8 October, 6:30pm