Graham Reid | | 5 min read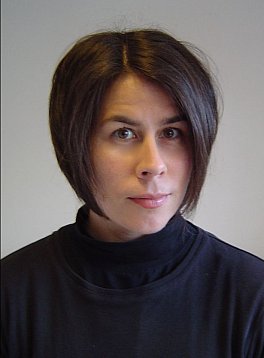 Australian set and costume designer Zoe Atkinson explodes with laughter, mock horror and a frisson of fear when I tell her she has just given me my headline.
"No, you can't say that," she shrieks.
We'd been talking about how her seven-year old son hadn't been able to see her very adult previous production of Richard Strauss' Elektra for the West Australian Opera Company in Perth last year and had told her she wasn't allowed to ever do another opera. But she'd sold him her current project – the production of Wagner's The Flying Dutchman, directed by fellow Australian Matthew Lutton, for NZ Opera 9dates below) – on the basis that it was about a haunted pirate ship and would mean coming to New Zealand. And this one he'd be able to see.
So I jokingly say my headline is written: Opera for Everyone from Seven to Seventy.
Cue laughter and mock horror.
"No! I will be showing him how it works backstage so he understands . . . and anyway, my son is very different and has sat through three hours of Puccini without any trouble. But this one is still very dark."
Her son has the jump on her in the opera stakes because Atkinson's background has been in theatre and, aside from Elektra, opera is virgin territory for her. She admits she wasn't even familiar with The Flying Dutchman until very recently.
"Opera is a new world to me and I'm really enjoying it because of that. I'd probably just enjoy working on any opera I think, because it's such an honour to have that language of music and voice which is above and beyond what theatre often offers.
"When all those parts come together in opera it is jaw-dropping. I love opera for its potential in expressionism and Elektra had all of that richness. Wagner has all that too as he's written it in the score.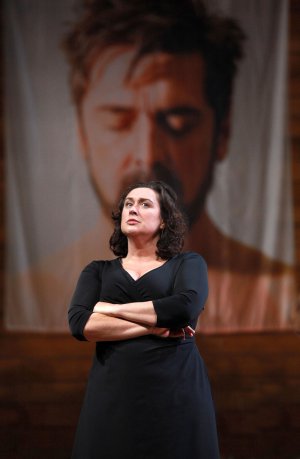 "When I first sat down to listen to it, it was almost like a film score, he has written in detail which is quite proscriptive.
"He's absolutely imaging a masthead and crow's nest breaching out of the ocean and there are notes of music which indicate every drop of water dripping down off that crow's nest and the sails, and then the hull coming up. It's all there in this massive musical crescendo and it's a real challenge as a designer to meet that without doing literally what that music is telling you what to do.
"The music is illustrative so it wouldn't serve any use to then say the same thing twice, once with music and once with design. I think it's better to find a different way to say that same thing to create something people will have a real response to, something that will evoke horror or fear or shadow . . ."
Atkinson says – given The Flying Dutchman is about internal emotion as much, and even more so perhaps, than external narrative --- that all opera has, or could have, that potential. The singing is a very visceral thing and when you see performers projecting a song it takes every single body part.
"So you can't then have them stop and do something mundane and functionary.
"We are working with singers and not actors or dancers, and they have a set of really clear technical demands which are non-negotiable. They have to be able to see the conductor, there are times when they are using do much of their body to sing that they physically cannot do anything else. So we have to take all of that into account and work with that.
"When that amount of concentration and energy is going into singing they are the moments when you don't want them to be doing anything else because the voice is so powerful. To corrupt it or pollute with any other action would be a disservice.
"There are moments in Dutchmen – for example the duet when the Dutchman and Senta meet each other for the first time – which are of such humanity and emotion you don't want to have any scenic elements saying anything. There's nothing you want to layer into that because it is being said by two people relating to each other."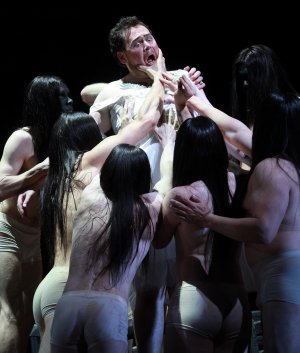 Atkinson laughs when I suggest that The Flying Dutchman is the manageable Wagner: bigger than Rienzi but more achievable than The Ring.
"Yes, it's nice to cut one's teeth on, being new to opera. But I do love the fact of coming from theatre into it because you have a really different understanding of narrative and language. I find that thrilling."
She says if she took the simple path of just providing the literal visual settings – a couple of ships, an interior and a cliff for someone to jump off, I joke – the production wouldn't be very inspiring. With the Norwegian ship she and Lutton wondered what it must be like inside a ship like that, "for that length of time, men just jammed in, these dirty and homesick men?"
"So rather than illustrate the external appearance it is much more interesting to find a way of giving the sensation of being inside. The question is how we could make that a manifestation of what is in their heads, rather than looking at them from the outside like a film would.
"There's a lot of stuff which has no real precedent, there's no formula for this. I've learned to trust that you can re-imagine an idea. When you can't make it work technically you can re-imagine it conceptually. I have ideas about how things might work and I tend not to be able to sleep until I can make them work. I go off and research and rely on the kindness and goodwill of people who know it professionally and have some expertise."
She notes that for Elektra she spent time discussing some technical requirement with engineers working on the Gorgon pipeline in northwest Australia "and for them theatre was a totally alien beast, but they were excited to have some kind of involvement with it.
"So I've learned to use those kinds of contacts."
Pulling together the design for The Flying Dutchman had to be fast: In January she and Lutton nutted out the storytelling, music and a "grand concept"; the next month she worked on the architecture of it, created a 1:50 scale model of the design on white-card and had discussions with the lighting designer; in April came the real 1:25 model and specific drawings . . .
Yes, there were bottles of wine and late nights involved. And as we speak she is in Wellington tweaking and refining a production which she says "is not traditional".
"But nor is it that thing which I don't find particular inspiring which is recontextualising. I wouldn't want to just take this and put it on the deck of a contemporary yacht. It's more saying to ourselves, 'How can we illustrate the feelings and psychology of these people rather than the physical environment Wagner has written them in?' So it expressionism in that sense."
And having done so many productions now – opera just the latest in her portfolio – has she learned not to panic?
"I don't tend to panic these days but part of that is I have small children . . . so disaster has a different perspective for me," she laughs.
And one of them is going to see The Flying Dutchman.
"Yes, then we will all go bush walking in the South Island."
Production photographs supplied by Neil Mackenzie. For more on Wagner see here.
THE FLYING DUTCHMAN
Wellington – St James Theatre
Sat 14, Thu 19, Sat 21 September, 7:30pm; Tue 17 September, 6:00pm
Auckland – ASB Theatre, Aotea Centre

Sat 5, Thu 10, Sat 12 October, 7:30pm; Tue 8 October, 6:30pm