Graham Reid | | 1 min read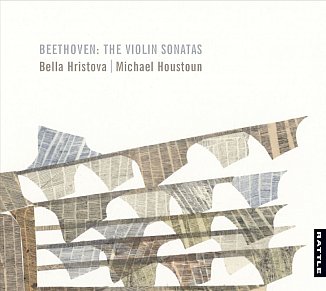 Sometimes just because we can, Elsewhere makes a courageous leap into the world of contemporary classical music because – in part – that is where we grew up; La Monte Young, Reich, Glass, Nyman et al.
But The Serious Old Big Stuff – like Beethoven's violin sonatas, which we have sometimes/occasionally heard and enjoyed in small doses – we leave to the experts.
And in this instance, for this beautifully packaged, informatively presented four-CD set – by The Enormously Acclaimed young violinist (Hristova) and senior statesman pianist (Sir Michael, he of this magisterial, internationally acclaimed and quite astonishing project) – we step aside to only note it is . . .
To these un-schooled ears, breathtaking in its scope . . .
It runs from fun (Rondo on disc, the first) to funereal: the lachrymose and downbeat opening passages of disc four where it seems we should – quite rightly – dance in the face of death.
If that seems shallow (and of course, it is) then in our defense – because we think might have read this astonishing arc in some small part correctly – we would just say: And "the people have spoken".
Those "people" being classical world listeners who have shoved this collection – a whopping four CD set by a violin/piano duet, we remind you – immediately into the RNZ/Radio New Zealand chart in just the second week after its release.
So serious music comes in behind the populist Sol3 Mio album?
Sorta like Penny Lane/Strawberry Fields Forever being kept off the top spot by Englebert Humperdinck's Release Me . . . if you will.
Crikey dick, I make shallow (but methinks, appropriate) cultural references.
You can find this extraordinary release at Rattle Records here (but the physical set is the way to go, downloads are soulless and have no tactile sensibility).