Graham Reid | | 3 min read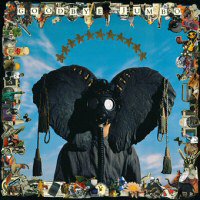 By any measure, 1990 was a pretty good year in rock and pop: Sinead O'Connor announced herself with the single Nothing Compares 2 U and the album I Do Not Want What I Haven't Got; George Michael's Listen Without Prejudice Vol 1 delivered timeless music; and things toughened up in Seattle with Sub Pop signing Mudhoney, Mother Love Bone, Soundgarden and Nirvana.
Janet Jackson unleashed her Rhythm Nation 1814 album; REM hit it big (again) with Shiny Happy People and Losing My Religion; Madonna toured the Blonde Ambition show; and there were cornerstone albums by the Pixies (Bossanova), Public Enemy (Fear of a Black Planet) Jane's Addiction (Ritual de lo Habitual) and the La's.
Okay, there was MC Hammer and New Kids on the Block, but you get the point.
Curiously enough one of the best albums of that year (according to Q magazine and dozens of critics) was one that simply didn't do the business at the cash register.
Karl Wallinger, formerly of the Waterboys alongside Mike Scott, had embarked on a promising solo career with his band World Party (the debut album Private Revolution in 1986). He confirmed his particular gift for late-period Fab Four-inspired music on Goodbye Jumbo, an album of effortless melodicism and adult pop with allusive lyrics about God, the green revolution, love in many forms and much more.
With a tidy 12 tracks, potentially huge hits in the trippy pop of Put The Message In The Box and the rocky Way Down Now, Goodbye Jumbo was the great album that went past just about everyone.
At the inaugural Q awards that year it won best album - but still it didn't really catch on.
It is impossible to understand why, especially when within about four years later Oasis would borrow from essentially the same sources but with much less care and musical style (although admittedly a bit more T.Rex rock and swaggering attitude).
Wallinger wasn't a man for swagger: his lyrics were cleverly crafted and his music - which he wrote and often performed almost every part himself in the studio - was subtle, discreetly referenced in his role models (sometimes the Stones as much as the Beatles) and he could cleverly incorporate a line from Iggy Pop as if it was the most natural thing in the world.
Goodbye Jumbo bristles with musical ideas, but they are all contained within the pop-rock format. The gritty Way Down Now cuts right back for an intimate central section and the lyrics offer bewildering post-psychedelic confusion; Ain't Gonna Come Till I'm Ready is a sly nod to soft psychedelic Curtis Mayfield-soul; he fades up When the Rainbow Comes just as the Beatles did with Eight Days A Week and it hits its peak in ringing chords and an optimistic invitation to "step out of the open door . . . build a new house down by the sea".
Put The Message In The Box is gentle power pop and slightly prescient in its lyrics if you think that Oasis were on their way (c'mon, it's not too late to make it a hit?); Take It Up just chimes off the disc like Dylan in 1966 . . .
This was an album of the old style where every note in every song mattered, and where each song was memorable and distinctive. It moves easily through different styles but every one is within Wallinger's confident grasp. And it didn't sound overly studied or too clever-clogs.
But the man who would later see his She's the One covered with great success by Robbie Williams just couldn't get traction for his own work on Goodbye Jumbo.
Whether it be a piano-framed ballad like God on my Side (Dylan in the lyrics again), the studio-funk of Show Me To The Top or the trippy Thank You World, Karl Wallinger proved he had what it took.
But most people were looking the other way.
Wallinger and World Party made other albums, none as good but his finest hour (well, 53 minutes) still stands today . . . and from here you head to his CD singles where he would offer throwaway genius in Stones-styled blues, pastoral ballads that wouldn't shame a Donovan album, a letter perfect cover of Lennon's Happiness is a Warm Gun, remixes . . .
Yes, 1990 was a great year. And for a while there Karl Wallinger probably thought so too.
There's a 1993 interview with Wallinger post-Jumbo at Absolute Elsewhere here.
These Essential Elsewhere pages deliberately point to albums which you might not have thought of, or have even heard . . .
But they might just open a door into a new kind of music, or an artist you didn't know of.
Or someone you may have thought was just plain boring.
But here is the way into a new/interesting/different music . . .
Jump in.
The deep end won't be out of your depth . . .