Graham Reid | | 4 min read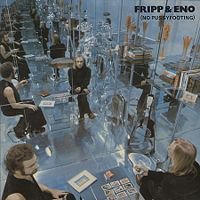 Context is everything -- or almost everything -- at Essential Elsewhere, these being albums you can return to repeatedly so probably stand outside of time, yet are always born of a specific place and time. Even if they owe nothing to it.
And these two albums seem to owe very little to their period. Which is what makes them special.
If some Essential Elsewhere albums epitomise their time (Moby Grape, Jackie McLean's Right Now!) and others (Splitz Enz' Mental Notes, Elton's Tumbleweed Connection) stand apart, there have been few albums posted which are quite so . . . dislocated? . . . as these two.
Consider the period in which No Pussyfooting arrived and just who the two main players were at the time: synth twiddler and platform-heeled aesthete Brian Eno had been dispatched/resigned from Roxy Music which was at that time establishing itself as the pre-eminent avant-rock band of its era; guitarist Robert Fripp had enjoyed a meteoric rise to big venues and critical acclaim with King Crimson and their stunning, and alarmingly innovative, debut album In Court of the Crimson King (1969).
With Eno stateless and Fripp already weary of road-life they were men in search of a purpose. Curiously enough they found it in each others company, and within the constraints of a recording studio which in those days was much more primitive then we might imagine.
Essentially No Pussyfooting is a tape recording album. That is, Eno taped Fripp's sonic experiments on guitar then manipulated the sounds by means of delays, looping and multi-tracking. Of itself this wasn't entirely new (a decade before Steve Reich had used synchronised tapes) but the sounds achieved were very different.
This was music which owed nothing to rock culture and not even much to so-called avant-garde electronic music coming out of Germany from groups such as Can, Neu!, Popul Vuh (who did soundtracks to Herzog movies) and other sonic pioneers.
No Pussyfooting - which consisted of two side-long tracks on the original vinyl -- The Heavenly Music Corporation and Swastika Girls -- was out there on its own: this was beatless instrumental music; had nothing approaching recognisable elements such as verses or a chorus; was all of a sustained mood; and relied on repetition (and small variations in the repeated figures) for its effect. It was pure sound.
This was music which referred to nothing outside of itself.
Critics didn't quite know what to think of it - there were no real reference points after all, certainly not in the pages of Melody Maker or NME - and when John Peel was provided with a tape he accidentally played it on his programme backwards.
(Wittily the 2008 double CD reissue of No Pussyfooting provides the original album and the backward versions as well as a half-speed version of Heavenly Music Corporation. It is in the nature of the music that it works equally well in all versions.)
At the time Fripp said, "It won't appeal to so many people but, over the years, it will come to be regarded as a classic and, in five years time, people will come to wonder how they could have missed something of that quality."
That was perhaps over-egging things, or at the very least being cocky in the face of indifference -- but there was a measure of truth in what he said.
No Pussyfooting is a landmark album (and not so coincidentally established Eno as a producer/boffin who was capable of using the studio as an instrument in itself).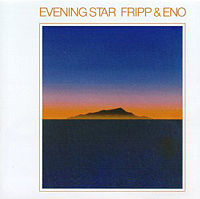 Fripp and Eno were so taken with the possibilities of their experiments that over the following years they dabbled again (it was cheap enough, No Pussyfooting cost 12 pounds to make) and the result was Evening Star, an equally esoteric album but with more conscious melodies and - aside from the 28 minute An Index of Metals which took up a whole side of vinyl - worked within shorter time frames.
Evening Star is no less Out There however and the quivering and shimmering synth sounds and layered guitar tones can be quietly hypnotic. Wind on Water as it appears on the album came about by acccident: Eno played back a piece to Fripp at half speed and both were taken with the effect.
The short Wind on Wind owed a little to the German group Cluster with whom Eno would subsequently work.
Some have suggested Eno was here in the process of inventing his ethic for ambient music: "Ambient music must be able to accommodate many levels of listening attention without enforcing one in particular; it must be as ignorable as it is enjoyable."
While that is true for No Pussyfooting and Evening Star - they are prefectly functional as background music, especially if you are in a space station, one imagines - but they are also more than that.
This was innovative music which observed no boundaries, it stands outside of rock, contemporary classical or progressive Krautrock.
In subsequent decades Fripp and Eno would raid this period of innovation (Fripp promoting the idea as Frippertronics, Eno using the raw material in other projects) and they also recorded in a similar fashion off and on, much of that material now appearing on the 2008 Beyond Even (1992-2006) compilation.
But No Pussyfooting and Evening Star were where it all began, and there are few other albums like them in 20th century popular music.
.
These Essential Elsewhere pages deliberately point to albums which you might not have thought of, or have even heard . . . But they might just open a door into a new kind of music, or an artist you didn't know of.
Or someone you may have thought was just plain boring.