Graham Reid | | 2 min read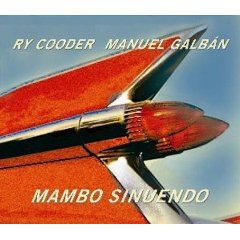 Of all the Cuban albums which came roaring down the turnpike after Ry Cooder waved the starter's flag with the Grammy-friendly Buena Vista Social Club in '97, the most unexpected came from a group called Cubismo.
Their lively self-titled album was a real cracker: vibrant rhythms, great horn section, joyousness and so on. All the hallmarks of classic Cuban pop music. Cubismo, however, were a Croatian band from Zagreb.
Now that's world music.
After the success of Buena Vista Social Club -- over 13 million sold and still ticking away -- it was surprising how record companies discovered they had Cuban artists on their books.
Dozens of Cuban albums shipped into stores and across reviewers' desks, although most paying punters have no more than a couple in their collections. Many of these discoveries by record companies stalled something awful on shop shelves and the companies' accountants will be the first to tell you there was no such thing as the Cuban music phenomenon.
The BVSC might have briefly been caught in old-style Cold War politics and some critics thought they whiffed a Paul Simon Graceland-style scandal, but most people didn't care about that.
They just liked the story of these old folks being rediscovered by Ry Cooder (largely a convenient myth as it happens), loved the Wim Wenders movie, and enjoyed the delightfully romantic music. Some of those BVSC folks went on to record solo albums and became minor stars in their own right. They were a charming bunch: the late octogenarian pianist Ruben Gonzalez, and the seventysomething singers Ibrahim Ferrer (also passed on) and Omara Portuondo deserved an international audience.
Of special interest, however, is guitarist Manuel Galban, a peripheral BVSC figure who appeared on a Ferrer solo album produced by Cooder. He adds unusual colour to many of the tracks, almost expressionist in the manner of Bill Frisell on Mil Congojaz, sinuous and like a melodic Fred Frith on No Tiene Telarana.
When Cooder returned to Cuba it was to work with this guitar wizard he felt the most open to experimentation and considered by his fellow musicians as someone unique. The resulting album Mambo Sinuendo under their paired names - with Jim Keltner on drums and a small, tight Cuban ensemble - confirms that opinion.
In a flashy cover featuring the fin of some classic Fifties car -- which reminds that Cuba is the living graveyard for such automotive elephants, and that Cooder once did Crazy 'Bout an Automobile -- the all-instrumental album touches some elusive areas from Fifties doo-wop pop (beamed from America and beautifully misheard on Cuban radio perhaps?), to Duane Eddy strum-und-twang spot-welded to Latin pop, and a jazz trio setting (with Cachaito Lopez on bass) on the old Doris Day standard Secret Love, here rendered much as John Abercrombie might play it on a minimalist ECM jazz album.
Cooder and Galban's guitars are seamlessly entwined, but Galban is the one who brings character to these sessions. He is as at home playing slithering bolero as covering Perez Prado's hoary Patricia (don't worry, like Tequila, you'll recognise it) but also explores a dark and moody tone as much as bright lounge-pop. The opener, Drume Negrita, sounds like the theme to an Endless Summer somewhere near Galban's hometown of Gibara, a small fishing village in Cuba's western province.
The timeless Mambo Sinuendo has its roots in an imaginary past where various styles of American popular music (Dizzy Gillespie's big band, finger-snap doo-wop and surf music among them) have been borrowed by musicians who, after a few rums on a warm afternoon, reconsider them through their own musical experiences.
Cuban music was subject to marketing overkill and over-exposure after the breakthrough of the BVSC, and that lead to this album being somewhat ignored by everyone other than the critics.
But this delightful album was far removed from the retro and reflective sound of the Cuban wave. The past was certainly present, but it was about possibilities opening up.
.
Manuel Galban died in Havana in July 2011. He was 80.
There is more about Ry Cooder at Elsewhere, including an interview, starting here.
.
These Essential Elsewhere pages deliberately point to albums which you might not have thought of, or have even heard . . .
But they might just open a door into a new kind of music, or an artist you didn't know of.
Or someone you may have thought was just plain boring.
Jump in.
The deep end won't be out of your depth . . .