Graham Reid | | 4 min read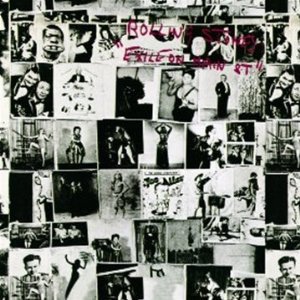 Few albums in rock have been so surrounded in dark mythology as this sprawling double album which was the last great gasp of the Rolling Stones.
Certainly subsequent albums -- Goats Head Soup, It's Only Rock'n'Roll and Black and Blue particularly -- had their great moments but (aside from Jagger's embrace of New York dance and Richards' forays into reggae) they were mostly retracing familiar ground.
And they were only moments.
Exile on Main St captured that period when they were still care-less explorers and risk takers, although for much of Exile it was mostly about them going back to their roots to rediscover the essence of the American music -- r'n'b, rural and Chicago blues -- which had once informed them.
Saturated in drugs and alcohol, louche and loose, ramshackle and perhaps even poorly "produced" by Jimmy Miller (on the start of a long emotional decline which ended here), Exile had its emotional genesis in Britain where they (Keith Richards particularly) were being hounded by police -- and the realisation they were bleeding money to the taxman.
They'd also done some recordings in Britain so took those with them on the move to self-imposed "exile" in the south of France -- which in truth meant undisciplined sessions in the basement of Richards' mansion (a former Nazi hangout) with whomever turned up . . .
As Charlie Watts observes, Exile wasn't "made as an album", it was just "recording". But that's like Truman Capote saying Kerouac's On the Road wasn't writing, it was just typing.
These are all the myths, but there is also the truth that the period in France was six months and the album was finished in LA with some of Jagger's vocals being added there. He's never rated the album (too many tracks, vocals buried in the mix . . . "vocalists never think their vocals are loud enough," is Keith's rejoinder) and at 67 minutes with all that musical diversity it was just too much for people to assimilate.
Maybe.
Jagger is right about one thing though, it is a very "different" Rolling Stones album. They would never make -- or at least, allow the release of -- another like it.
These days -- half a century after its release -- more is written about the myth than the music.
But the music was quite exceptional: Sweet Virginia provided the blues template for a hundred Southern rock bands. No Exile (especially songs like Loving Cup) then no White Stripes perhaps?
Richards' riffery on Tumbling Dice, Happy and All Down the line were so primal he would spend the rest of his life reconstructing and re-inventing them; and they explored the spirit if not the sound of Willie Dixon and Muddy Waters on songs like Turd on the Run . . .
The dark I Just Wanna See His Face is clearly influenced by the voodoo New Orleans spirit of Dr John's albums of the time; Torn and Frayed, Let It Loose and others dug deeper into the soulful country music which had been coming through since Beggar's Banquet . . .
This was a semi-comatose musical gumbo where the songs and styles might have seemed dispirit and separate, but added up to some greater than their parts.
There have also been suggestion that this was the most autobiographical album the Stones ever made. Was "whose that woman on your arm, all dressed up to do you harm" a Keith dig at Bianca whom Mick married during their time in France? Was "you've got scrape that shit right off your shoes" a comment about the England they had left behind? Or former manager Allen Klein?
Was Soul Survivor ("You've gotta cut-throat crew, I'm gonna sink under you") Mick's poke at Keith's junkie pals and hangers-on?
Exile on Main St -- just by sheer breadth alone -- is ripe for such investigation and questions . . . but mostly it is just a brilliantly devil-may-care rock'n'roll blues album from a band that both didn't care, and cared passionately, about what they were doing.
After that all else would seem like business -- and increasingly bigger business -- as usual.
Footnote:
The 2010 re-issue and slightly remastered version of Exile comes in a variety of different forms, one of which includes a DVD.
But let's just turn attention to the edition with the extra disc of 10 extra Exile session tracks. If that is indeed what they are.
Jagger in interviews was interestingly evasive about the provenance of this material (a rare ocassion when the Stones have issued previously unreleased material) and although some of these additional songs sound like they were created in crucible of the Exile sessions, so then did parts of A Bigger Bang in 2005.
There has been some suggestion that Jagger had more recently added his vocals to old instrumentals (Dancing in the Light on the added disc sounds suspiciously like that), and it has been conceded that in the case of the raw Plundered My Soul, guitarist Mick Taylor and Jagger recorded new parts earlier this year.
Does this matter when even tracks on the original album had vocal overdubs and other instruments added in LA later?
Yes and no, you be the judge. The "previously unreleased" stuff is dull, frankly.
On the extra disc there are alternative versions of Loving Cup and Soul Survivor (uh-huh), and So Divine owes a wee debt to Paint It Black as much as country-rock and Happy. Good Time Women isn't up to much and you can hear All Down the Line in it. Title 5 is just an inconsequential country-boogie throwaway of absolutely no interest at all, from the Stones or otherwise.
So marginally interesting though these songs are (and really, if this is the best they could come up with then ...?), they add little to our knowledge of Exile on Main St, a record that was a "different" Stones album.
And the better for it.
And by far the better for being left as it once was: a dissolute, out of focus double album with no "added value" other than what you, very ssssstoned, brought to it.
These Essential Elsewhere pages deliberately point to albums which you might not have thought of, or have even heard . . .
But they might just open a door into a new kind of music, or an artist you didn't know of. Or someone you may have thought was just plain boring.