Graham Reid | | 2 min read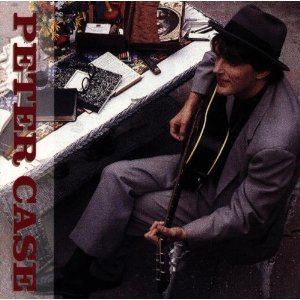 For six months after its release, at least three times a week, I would play this album. Night after night.
I had been given a cassette tape which I had in the kitchen and while making dinner for my kids, only stopping to hear Alistair Cooke's Letter From America on the radio, Peter Case would be on permanant repeat.
One night one of my boys came in and stood listening, for what would not have been the first time, and said, "Dad, whose hand did he shake?"
The question was about the song I Shook His Hand ("too young not to understand, I was proud to say I shook his hand") and my answer was probably, as I juggled meatloaf and salad and a joint, along the lines of "I don't know, that's why I keep listening to it. I'm still trying to figure it out".
The urgent lyrics seemed to tumble over themselves so only fragments would appear from my fuzzy tape: for a while I thought of JFK or his assassin Lee Harvey Oswald, perhaps John Lennon, perhaps Huey Long or a baseball star. . ? None fit but all could.
I thought there was something about a prison van (there isn't) but on closer analysis in later years it is about a tent-show preacher (perhaps?): "His words were like lightning in the summer air, his eyes were wild with truth he told, holding back the rain while the thunder rolled . . ."
Case's self-titled debut album -- cleanly recorded with an immediacy by T Bone Burnett -- remains a record that is oblique, equivocal and allusive.
At its most obvious -- Small Town Spree about a gunman on the run, with a dark string arrangement by Van Dyke Parks -- there are narratives of the kind that would become common in alt.country, a genre not then invented.
But it is those other songs like Echo Wars ("echo wars never die, they fight and multiply"), Steel Strings and More Than Curious where you pour your own meaning into the songs.
There is something spare yet cinematic about this music, at times it suggests John Ford taken down to those mysterious bayou landscapes of the South (the brooding More Than Curious, co-produced by Mitchell Froom, which weaves to a fade).
Walk in the Woods is about a young couple who mysteriously go missing with a twist ("You never heard such theories but none of 'em could be proved") and anticipated the alt.country obsession with murder ballads.
This is a world of cemeteries, willow trees, railroad tracks, preachers at tent shows, a hold-up at a liquor store, old cars and backroads.
On Old Blue Car he honks up the blues harmonica and the album concludes, improbably, with a terrific version of the Pogues' Pair of Brown Eyes.
It would be a couple of years before I learned Case had been in the Plimsouls but the way he turned that punk-pop energy into acoustic folk-rock music was his gift. There are songs on this debut which could certainly be re-imagined with a rock band, but it is their up-close tautnesss which drags you in.
There are big name players here -- John Hiatt, Jim Keltner, Roger McGuinn who brings guitar chime to Satellite Beach, Gurf Morlix, Victoria Williams -- but all remain firmly in the background.
Their presence was an early indicator of the high regard in which Peter Case was held -- and has been down the decades. In '06 the triple-disc tribute album A Case For Case had his songs recorded by the likes of Hayes Carll, Tom Russell, Dave Alvin, Joe Ely, James McMurtry, Chris Gaffney . . .
His heart attack in '09 saw the big names come out for a fund-raisers. Case's music had touched a lot of people.
In the largely impenetrable liner notes here Case says "these songs are about sin and salvation. Have fun."
More than two decades on from cooking in the kitchen, I still am having fun with this album. In that slightly eerie way which Peter Case allows.
These Essential Elsewhere pages deliberately point to albums which you might not have thought of, or have even heard . . .
But they might just open a door into a new kind of music, or an artist you didn't know of.
Or someone you may have thought was just plain boring.
But here is the way into a new/interesting/different music . . .
Jump in.
The deep end won't be out of your depth . . .