Graham Reid | | 3 min read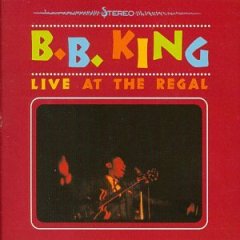 With his royal surname, a 60-year career which has earned him Godfather status, a sophisticated demeanour and dapper suits, and his own chain of nightclubs it is hard to see BB King as an earthy and edgy blueman: the guy who used to play 300 nights a year, who has fathered at least a dozen children to as many different women, the one who grew up on a plantation in Mississippi and counted Bukka White among his cousins . . .
But even though King today seems remote from the world he once occupied, listening back to his classic period (mid Fifties to the early Seventies) you can't help but be struck by what an evocative voice he possessed, and how he could make that guitar Lucille talk.
King was born in 1925 and made his name as a guitarist/singer in Memphis in the late Forties when he worked the clubs on and around Beale St (where he now owns his own club).
As many writers have noted, King's constant touring in this period until the late Sixties when he became a star put him in the same league as other itinerants such as Robert Johnson and Blind Lemon Jefferson. The difference was that King aimed upwards (surprisingly he didn't drink or smoke) and once he was acknowledged by the likes of John Mayall, Eric Clapton and Jimmy Page in the British blues boom of the early and mid 60s, the big doors opened for him.
He supported the Stones on their notorious '69 US tour.
His huge crossover hit, The Thrill is Gone in 1970, took him out of the black clubs and playlists where he was already acknowledged and into widespread commercial acceptance. Other hits followed -- To Know You is to Love You, I Like to Live the Love -- and by the late Eighties he was touring stadiums with U2. When Love Comes To Town took him to a new audience again.
But before he crossed the racial divide and was adopted by white audiences, King was playing up a storm to enthusiastic, predominantly black, audiences -- as he did at the Regal Theatre, Chicago in November 1964.
With a small band (trumpet, two saxes, and piano alongside a drummer and bassist), King took listeners on a trip which was by turns raunchy ("I've got a sweet little angel, I love it when she spreads her wings") to self-pity (It's My Own Fault written by John Lee Hooker) and on to the moving Help The Poor.
And what impresses -- aside from his guitar playing, more of that later -- was how raw or gentle his voice could be. He has an extraordinary vocal range -- not just emotionally either although his gift is in delivering a lyric.
King's guitar playing is equally unique. He learned by listening to cousin Bukka White bending notes on slide, and Lonnie Johnson. But equally he was influenced by jazz guitarists such as Charlie Christian, and horn players like Johnny Hodges in Duke Ellington's orchestra.
King -- who can't sing and play guitar at the same time, or at least doesn't -- would bend notes to get an emotional, keening sound. And he would deliver abrupt, brassy sounding lines which he would cut off quickly as a trumpeter or saxophonist might.
You can hear all of that, and much more, as he entertains his Regal Theatre audience (he always liked a spoken word intro) on a set that was recorded in his pre-hit period. So if the album seems short on classic King tracks it only serves to throw the attention back on the singer (and player), not the song.
But the choice of songs is interesting, from the rocked-up and soulful opener of Memphis Slim's Everyday I Have the Blues, through originals to the Hooker song and also Victoria Spivey's You've Done Lost Your Good Thing Now.
From the time of its release Live at the Regal was recognised as one of the great blues albums and a definitive live statement -- although King himself doesn't rate it much, apparently. He does however concede that something special happened that night, and that he was starting to lose his black audience outside of big cities like Chicago.
Maybe he just intuitively pulled something out of the bag when he heard the repsonse he was getting because the audience on the night -- which is vocal to the point of raucous enjoyment -- certainly gave it up for him.
This album is, perhaps with a decent collection of his later hits, the perfect starting point into BB King -- but also lets you look more widely by checking out his predecessors mentioned above, those songwriters he drew on, and then other blues guitarists like T-Bone Walker (who pulled from jazz even more so than King) -- as well as those white players who were influenced by him: Clapton, Mayall, Jeff Beck, Stevie Ray Vaughan, Keith Richards, John Fogerty . . .
Live albums rarely sound as alive and as earthy as this one.
These Essential Elsewhere pages deliberately point to albums which you might not have thought of, or have even heard . . .

But they might just open a door into a new kind of music, or an artist you didn't know of. Or someone you may have thought was just plain boring.
But here is the way into a new/interesting/different music . . .
Jump in.
The deep end won't be out of your depth . . .