Graham Reid | | 3 min read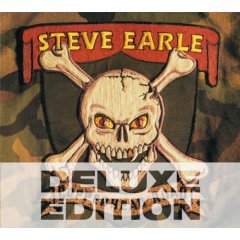 Of all the artists to emerge in the past two and a half decades, you can effortlessly make the case that Steve Earle has moved the most. With confidence, and often great success, he has worked within genres we might define as country, folk-blues, alt.rock, bluegrass, country-rock . . .
Earle has been a provocative political voice (pro-Kerry, anti-Bush and the wars in Iraq and Afghanistan, vocal in the repeal of the death penalty and the Patriot Act), and he has also written books of short stories and haiku . . .
And he has moved into television series such as The Wire and Treme, written stage plays and novels . . .
But way back on his 2002 album Side Tracks -- a collection of non-album song for films, unreleased material and the like -- he covered the Chambers Brothers psychedelic soul of Time Has Come Today (with Sixties activist Abbie Hoffman's voice added in), reggae (Johnny Too Bad), Little Feat's Willin', Dylan's My Back Pages, Gram Parsons' My Uncle . . .

You wouldn't want to write his biography (although David McGee did) because you'd also have to factor in relentless touring, that time in jail on firearms charges and for heroin possession, the seven wives (well six actually, twice to the same woman), his production work . . .

And it all started with this album.
Sort of.

Prior to this were the acclaimed debut Guitar Town ('86) and Exit O ('87) but by the time of Copperhead Road Earle had grown in confidence and stature and was ready to take musical risks beyond the brittle, rockin' country music he had become known for.

Copperhead Road is filled with menace (a copperhead is venomous snake), politics (Viet-vets people some songs in the manner of Springsteen) and drug references (purple hearts, growing marijuana). He also pulled in fellow travellers: the Pogues on the acerbic Johnny Come Lately, and Maria McKee of Lone Justice on the beautiful Nothing But A Child.

Earle was 33 when he went into the studio and clearly his own man, although his first two albums had often seen him lumped in with the "new traditonalist" country movement of George Strait, John Anderson and others.

Later Earle would say Copperhead Road was his "fuck you, to an extent" to the Nashville scene which had recoiled at his hard living lifestyle and the contempt in which he held it.

On paper the album should never havee been made: he was increasingly wired on heroin, his fourth marriage had collapsed, his manager and he were no longer on speaking terms, he'd been arrested for assault, band members had quit . . .

And, as so often happens, out of adversity came greatness.

Copperhead Road bristles with anger and rage, but also has a world weariness that only Earle's lifestyle could make convincing. It had a powerful country twang that was injected with rock'n'roll (Springsteen's Born to Run had appeared three years previous and the band adopted the grandiose sound of that album) and songs like the Stones' Dead Flowers had become live staples.

Scattered throughout were narrative songs such as the title track, Johnny Come Lately and The Devil's Right Hand (Earle had effortlessly mastered a storytelling style which he still adopts today) but there were also powerful metaphors, cries for love (You Belong To Me, Waiting On You) and songs which should have become classics as Earle poured raw emotion into them (Even When I'm Blue, Nothing But A Child).

Copperhead Road was the album that announced Earle as a major songwriter -- and, ironically, for a period thereafter it was all downhill. The addiction took control, a lesser album followed, then jail -- and many wrote him off.

His return to the frontline of American music as a straightened up, straight-shooter, a blue collar political-intellectual, and songwriter who covered many genres, has made for one of the most interesting careers in American music.

Copperhead Road belongs in any decent music collection and allows you to explore Earle's career, look back to Springsteen's Born to Run and Nebraska (the latter also an Essential Elsewhere album) and follow the threads into the music of Gram Parsons, the Stones when they adopted Parsons' country-rock style at the start of the Seventies, contemporary bluegrass . . .

Copperhead Road has been reissued in a Deluxe Edition and the extra disc includes an unreleased live show from late '87, a solo version of Springsteen's Nebraska, and five tracks from an '89 show (in which he covers Dead Flowers). That is the edition which should be in your collection.

These Essential Elsewhere pages deliberately point to albums which you might not have thought of, or have even heard . . .
But they might just open a door into a new kind of music, or an artist you didn't know of. Or someone you may have thought was just plain boring.
But here is the way into a new/interesting/different music . . .
Jump in.
The deep end won't be out of your depth . . .