Graham Reid | | 3 min read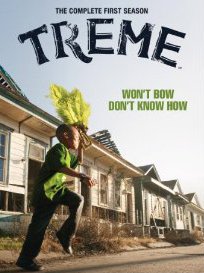 As I write this, large areas of Louisiana have been under water this past week as the Mississippi rose and authorities opened floodgates so as not put pressure on the levees further down, notably around Baton Rouge and New Orleans.

And in nearly every report of the events – caused by melting ice and run-off way up north – one word has rung like a refrain: Katrina.

Hurricane Katrina is the shorthand for the disaster that struck New Orleans in August 2005 but in the wider world that has been reduced down to a mere knee-jerk about the failure of the Bush administration to deal with the aftermath when the levees broke and parts of the city were flooded.

The larger story is more historic and complex, there had been a failure on the part of successive governments to deal with the decades-long damage to wetlands by oil companies, the failure of the levees (built by the US Army Corp of Engineers), the lack of a coherent evacuation procedure of the many thousands who had no vehicles to get them out. . .

Hurricane Katrina, in many ways, was the least of the city's problems. The flooding and its immediate consequences, then the aftermath as people moved away possibly never to return, are the bigger matters.

The city that care forgot, as it used to be called, is creeping back to life but no one would pretend it will ever be quite the same.

This exceptional series – from the creator of The Wire – drops you into New Orleans district of Treme three months after Katrina where some locals are coming back to homes with a tide mark halfway up their walls, others have stuck it out, there are out-of-town security forces, kids who have no school to go to, power cuts and food shortage, and people are struggling to make debt payments while they wait for "IN-surance" claims to come through.

There is anger and resentment, but also that spirit which made New Orleans unique is starting to be tapped.

The bands are starting to play again.

And music is at the core of this series: real life musicians in the Rebirth Brass, Galactic, Trombone Shorty, Elvis Costello (recording with Allen Toussaint in dry self-parody) and many others play themselves.

There are plenty of in-jokes for those who know this music: "You sound like Wynton," from a young trumpeter whose father says he might be able to play the new thing but asks can he swing?

Two white street musicians – a keyboard player and a violinist – encounter some young folk from Wisconsin who have come down with their church to help rebuild the 9th ward. They'd like to hear some authentic New Orleans music and the keyboard guy asks if they want When the Saints. (They do, but in a clever twist your sympathies are with them for their optimism rather than with his cynicism.)

But the music doesn't take away from the serious story here of a city which has seen its people, their homes and its culture washed away.

If you know the background to the Mardi Gras Indians, the role of brass bands and the distinctive New Orleans "bounce" style of hip-hop then you will get even more from this. Helpfully the DVD comes with an option which allows the titles of songs/artists to pop up when they are played, even if just from a radio or a stereo. Use it and keep a pencil handy.

Treme – correctly Fauborg Treme, a predominantly black district of the city beside the famous French Quarter and which was one of the most important historical and cultural areas -- was badly affected by the flooding.

This first season of the series – 10 hour-long episodes – wasn't without its local critics who picked up on matters of authenticity (although most locals seemed to approve of it) and the sense of a city and a people gradually rebuilding is the long arc here, peppered with telling small detail about how those in different circumstances came to terms with their new lives.

The second series was much darker.

But here is where this story begins, to a brilliant and diverse soundtrack which includes older jazz styles alongside bounce and jazz-funk.

A series to turn the sound up for.
Like the sound of this? Then check out this.