Graham Reid | | 1 min read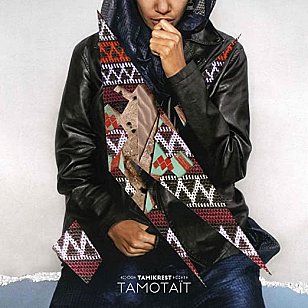 Hard to believe that Elsewhere could miss this new album, released last month, by the extraordinary Tamikrest whose sub-Saharan blues we have championed right from their debut
Adagh
10 years ago to their previous release
Kidal
(named for the town in Mali where they formed) in 2017.
As we've mentioned previously, these players are a generation below the influential Tinariwen and Etran Finatawa, so tuned in to the Western canon of Jimi, Marley and other exploratory rock bands.
Their previous album Kidal was produced by Mark Mulholland and this one done in France with David Odlum (Glen Hansard, Tinariwen). They have felt comfortable working with Western players (witness their contributions on the Dirt Music album) and their sound slides effortlessly between the ethereal Sahara blues style and the earthiness of rock (and vice-versa).
And here on the final track Tabsit there are Japanese musicians playing traditional instruments.
So Tamotait – which means hope for the future in their Tamashek language – manages to ride those chanting vocals and grooves with their brittle but shimmering guitars while also hunkering down over rock riffs (Awnafin, Amidinin Tad Adouniya with serious slide guitar).
Then unexpectedly a female vocalist (Moroccan Hindi Zahra) sings in English "we are all falling stars" on the dreamy Timtarin.
Tamikrest – along with Terakaft – are part of that new generation of desert blues bands (albeit one which has been around for more than a decadee) and are always as hypnotic (Amzagh, the melancholy Tihoussay) as they are exciting.
Can't believe we missed this.
.

You can hear and buy Tamikrest albums on bandcamp here, where they offer a discount deal for a download of all their albums. But for vinyl check out Southbound Records in Auckland who stock a great range of music such as this. Their website is here.