Graham Reid | | 1 min read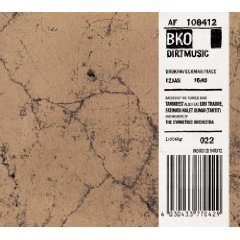 In a way this album was inevitable -- although has come from an unexpected source. The whole "Sahara Blues" style of Etran Finatawa, Tinariwen and more recently Tamikrest has always lent itself to being brought to wider attention by collaborations with European musicians.
The co-joining of Anglo-alt.folkers Tuung with Tinariwen was unusual -- and so is this: BKO is the international abbreviation for Bamako airport in Mali and Dirt Music are US alt.country musicians Chris Brokaw (dobro), Chris Eckman (guitars, a sometime member of the Willard Grant Conspiracy) and guitarist Hugo Race who here collaborate with hot young Tamikrest and other local desert musicans, and members of the Symmetric Orchestra.
And it comes out on the German label Glitterhouse which seems to have a habit of releasing fascinating and different albums.
In many ways this a game of two halves: the opener Black Gravity, the Casbah-meets-Velvet Underground version of All Tomorrow's Parties, Race's hypnotic desert blues Ready for the Sign and Desert Wind up first ground this very much in Mali with ululations, wailing voices, those Sahara Blues guitars from the Africans and the slow loping grooves. It is terrific -- and what you had always expected could have have happened if these musical styles should ever meet.
Eckman's Lives We Did Not Live which follows ushers in another style: elements of the Mali sound are still evident but this churns like a nasty country-rocker.
And thereafter the marriage tips rather more in favour of the Americans although the delicious Mali guitars are the colouring: the swampy groove of Smoking Bowl could be JJ Cale transplanted to East Africa; the ordinary country-folk of Collisions is the weakest cut (despite the atmospheric sonic effects it sounds utterly out of place) but the gentle and evocative instrumental Niger Sundown (with Lassana Diabate on balafon and Issa Kone on n'goni alongside Race's slide and Brokaw's banjo) is a quiet gem towards the end.
So while it would fair to observe that some of these pieces work better than others this is one tips well in the favour of all concerned and opens up a profitable area of further exploration.
It also comes with an excellent doco DVD, stand alone clips for some of the songs (among them a Warhol referencing b'n'white All Tomorrow's Parties) and four bonus audio tracks not on the album.
Excellent package (good liner notes and photos too) and highly recommended.